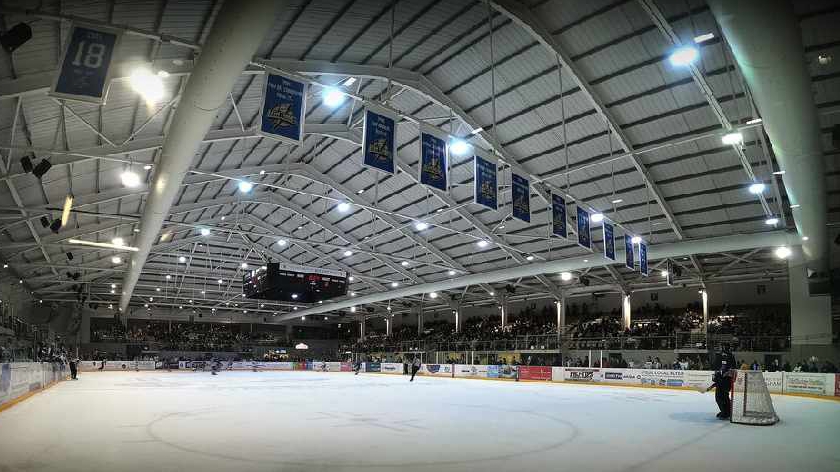 Image Credit: © Tony Sargent
Lewis Clifford continues his roster building for the 2019/20 NIHL season with the re-signing of Milton Keynes Lightning legend Leigh Jamieson.
The 33-year-old started his playing career back in the 1999/2000 season with the Milton Keynes Kings, spending the majority of his time playing in his home town from then on.
Jamieson had successful spells with the Belfast Giants and Coventry Blaze in the EIHL, earning 29 goals and 73 total points in 282 regular season appearances while also winning the league with the Giants in the 2005/06 season.
The Milton Keynes native has also represented his country at various levels, winning Gold and Silver medals at the World Junior Championships in the early 2000's.
But it is with the Milton Keynes Lightning that Jamieson is best known and loved, playing for his home town club for eight consecutive seasons between 2009 and 2017.
During that time, Jamieson wore the coveted alternate captain's 'A' on his jersey, winning league, playoff and cup honours with the Lightning.
Originally a dominating forward for the Lightning, Jamieson converted into a defenceman as he got older and should be a top defensive player for the club next season.
Jamieson will return in Lightning colours for the first time in two years this season and will wear his well-recognised #19 jersey.
Speaking of his decision to rejoin the club, Jamieson commented: "I'm really happy to be returning to my home town club and looking forward to the season and challenging for silverware."
"When the opportunity came to play in MK again I knew it was the right choice for me"
Head coach Lewis Clifford believes Jamieson will be a real threat for the club's blueline corps, commenting: "Obviously it goes without saying that bringing Jaimo back to the team is a huge positive for us, having a strong set of D that can play hard in our zone as well as get us up the ice with their range of passing and vision is vital for us to be successful."
He added: "Jaimo is now one of the more senior players on the roster. He is a threat every time he is on the ice and he is able to play in all situations and he will be relied upon as a central figure of the team both on and off the ice."
"He is a role model for some of the younger guys on the team, and for players currently in the youth ranks here in MK having grown up playing in our own junior system."
He concluded: "When I made this signing I knew what I was getting, not just a top performer at this level, but a guy who will be a central figure of the team in the room, keeping everyone around him loose and relaxed but also focussed and ready to play."