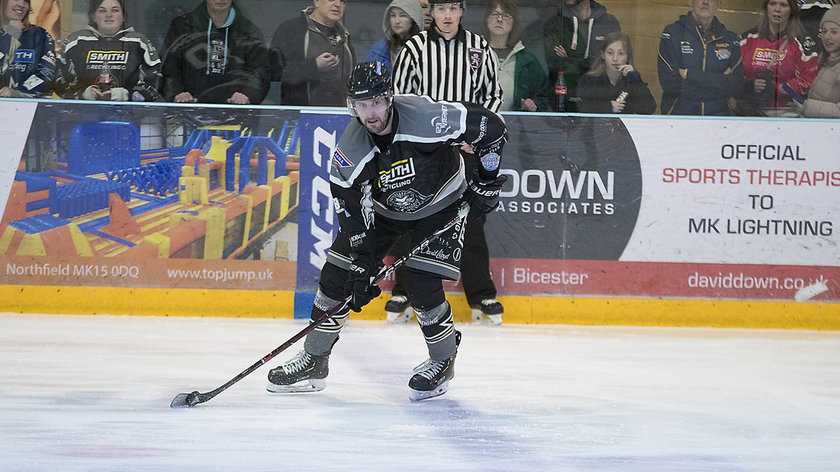 Image Credit: © Tony Sargent
The Smith Recycling Milton Keynes Lightning are unveiling their end of season award winners online and one club legend was the first to receive an honour.
Milton Keynes-born Leigh Jamieson, who has spent many years of his professional career with his hometown club, has been awarded the honour of Best Defenceman for the 2019/20 season by the club.
Jamieson, 34, has been a real leader on and off the ice for the Lightning and at one point was unofficially captaining the side when Russ Cowley, Grant McPherson and James Griffin were all sidelined with injuries early in the NIHL season.
His years as a forward had him contribute heavily on offence from the blueline, finishing the season with 13 goals and 53 total points in 47 regular-season games, good for the second-highest scoring defenceman in the entire league, just one point behind Ben Morgan of the Sheffield Steeldogs.
After a year of strong performances, at both ends of the ice, the former Great Britain international fully deserves to be recognised for his contributions as the team's best and most consistent defenceman during the 2019/20 season.
Head coach Lewis Clifford, commenting on the award, said: "This award was quite difficult to decide on. We had a couple of names pencilled in, changed it around a few times, but the D were hit hard this year with injuries and people playing short a lot and then, when everyone came back, we had seven, which is a bit alien to people as well."
"When I look across the season and the contribution that gets made in all areas, whether it's offensively, defensively, on the powerplay, on the penalty kill, on and off the ice... whatever that may be, this guy stands above everybody else."
"There was a period early in the season when all three of our captains were out and this guy really led the team."
He added: "He was there to drag the team through the bad times and there's nobody on the team that enjoys a win more than this guy."
"He was the second-highest scoring defenceman in the league, which is a fantastic achievement anyway."
He concluded: "[He's] a fantastic asset to the team and a fantastic defenceman."