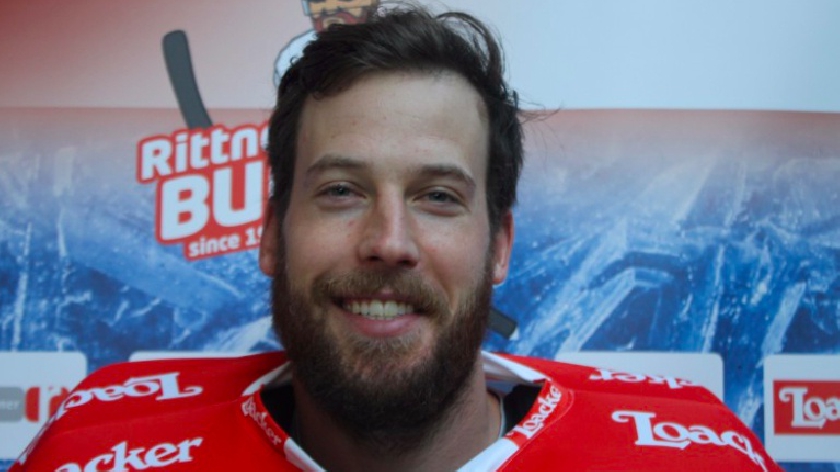 Image Credit: Ritten Sport
Canadian goaltender Patrick Killeen has won championships in Europe over the past two years and he now looks set to bring that winning mentality to the Milton Keynes Lightning.
Killeen, 28, has played for a number to teams across various leagues in both North America and Europe but is stepping into new territory with the Lightning this season.
He began his career playing in the junior leagues in his native Ontario, Canada, playing for the Brampton Battalion in the OHL – which saw him selected by the Pittsburgh Penguins in the sixth round (180th overall) of the 2008 draft.
He then spent three years playing within the Penguins' farm system, making 98 regular season appearances in the ECHL while also playing seven games for the team's AHL affiliates, the Wilkes-Barre/Scranton Penguins.
Then, after a stint in the Canadian college system, Killeen saw his career take him to Ritten in Italy, where Killeen performed exceptionally and won back-to-back Italian titles.
In 67 games in the Alps Hockey League, Killeen had an average save percentage of .925 and a goals-against average of just 1.99 – numbers that saw him win multiple individual awards for his performances.
But he is now looking forward to the challenge of competing in the top British league.
Speaking at the team's meet the players evening, Killeen said: "I've been looking forward to getting here for the last four months, since I signed."
"I've been waiting at home patiently for my visa and had everything packed up and ready to go so being able to finally get over here has been just awesome."
"The guys a looking good, the rink looks great and the city looks amazing so just happy to be here and get things started."
And playing against teams in Britain will not be too unfamiliar for Killeen, who has faced off against the Nottingham Panthers and Sheffield Steelers previously in the Champions Hockey League.
Speaking of his familiarity with the Elite League, he commented: "I played against Nottingham and Sheffield the past two years, I knew the league is really strong and it's continuously getting better."
As well as his familiarity with British hockey, Killeen was drawn to the club by a number of factors.
He explained: "I talked to the coach, Doug McKay, and he said some great things about the direction that he wanted to bring the team and just overall things I heard about ownership and the fanbase and on the city and stuff like that, it made it a really easy decision for me."
Having won championships in Italy has also given him an understanding of the differences in style of play as well as a winning mentality that will certainly benefit his new team.
He commented: "The hockey is going to be slightly different, I think it's a little bit more North Americanised here with the size and the strength whereas Italy is a little bit more skill."
"But I think winning championships is what you play the game for and being able to do that the past two years just makes you more confident, it shows how hard it is to win and gives you a better mentality going into the season."