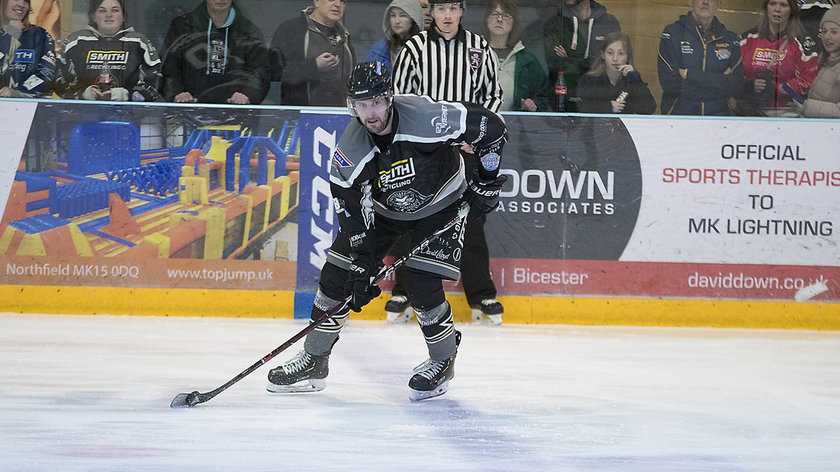 Image Credit: © Tony Sargent
The All In Black Milton Keynes Lightning have today announced that club legend Leigh Jamieson will return to the club for the 2021/22 season.
After a full year without ordinary league play, thanks to the ongoing Coronavirus pandemic, the Lightning have begun to announce player signings for the highly anticipated 2021/22 NIHL National campaign.
Jamieson, the Milton Keynes-born veteran defenceman, returns to the Lightning after making over 500 appearances for the club, where he has played as both a forward and defenceman during his career.
In the 2019/20 season Jamieson was named as the club's Defenceman of the Year, where he scored 13 goals and registered an impressive 53 total points in 47 regular season games (fifth-highest on the team) under head coach Lewis Clifford.
Now, with a legitimate season approved to start in the autumn, Jamieson will be back to provide strong leadership as well as reliable play at both ends of the ice.
Speaking of Jamieson's return, Clifford commented: "I'm really pleased that Jimba is our first signing for 2021/22."
"I trust him completely to deliver, and to set a great example to the younger guys on the team of what it takes to have a long and successful career and what it means to be part of MKL."
He concluded: "He was the second-highest points scoring D-man in the league in our last full season, and it's that combination of firepower and defensive presence that I know he'll bring this time round."
Jamieson himself said of his return: "A whole season not playing the sport I love was really difficult."
"I've talked to Cliff about his plans for the season and the squad that he's building and I'm excited to bring my experience to the group."
He concluded: "MKL has been a huge part of my life, and it will be a massive pleasure to get back on the ice in front of our amazing fans and show them what we can do."