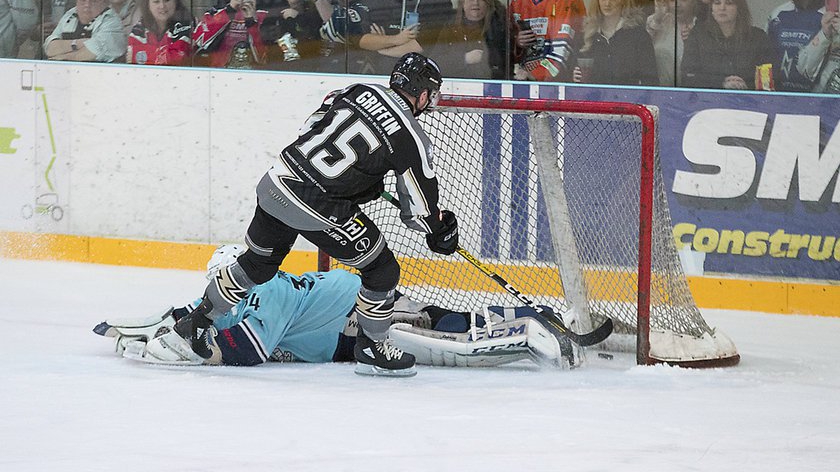 The All In Black Milton Keynes Lightning have today announced the signing of popular defenceman James Griffin ahead of the 2021/22 season.
The 28-year-old right-shot blueliner has had a long career in the British game, both at the Elite League level and below, even representing Team GB at three consecutive World Junior Championships (Division 1A/B).
Since the 2015/16 season, Griffin has plied his trade right here in Milton Keynes and has become one of the most popular players on the Lightning - even being named an alternate captain under current head coach Lewis Clifford for the first time in 2019.
Griffin had signed up to play for the Lightning last season, but with regular play curtailed by the ongoing COVID pandemic, he was unable to suit up for the team.
Now, he looks set to add to his 251 regular season appearances and 87 points (28G, 49A) earned for the Lightning.
Speaking of Griffin's return to the team, Clifford commented: "I don't think I need to say too much about Griff as everyone already knows what he does for us on the ice, how much we value him and how much we miss him when he's not there."
"If I had to list all the attributes I want in a Defenceman to play in this league, Griff would tick all of the boxes, skating ability, physicality, transition game, PP, PK, 5-on-5 – he can do it all."
"Griff's last season with us was interrupted by injury, however I think strangely enough not playing for a long time may have been a positive for him as he's fit, healthy and chomping at the bit to get going again."
He continued: "Griff is loved by the fans here in MK, he's loved by his team mates and as a coach I honestly couldn't put a value on him as I don't think there's another D-man in the league who I could bring in to do all the things he does for us."
Griffin himself said: "I can't wait to get back on the ice! It's been a long time since we've been able to play competitive hockey, and I've really missed it."
"The roar of the crowd and the feeling of playing to win as a team is something you really can't beat, and I'm raring to go to get back out there."
He concluded: "The fans in MK have always been so supportive of us as a team, and myself as a player and we will all work as hard as we can to put in great performances on this ice."