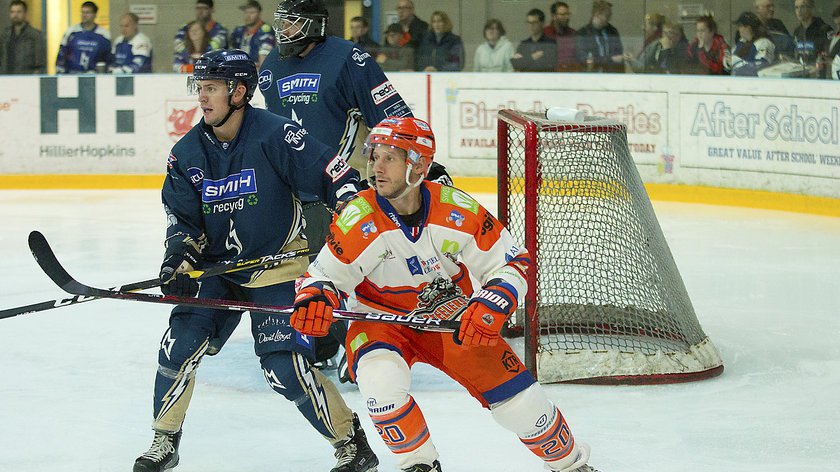 Image Credit: © Tony Sargent
The Smith Recycling Milton Keynes Lightning today announced the return of veteran defenceman James Griffin for a fifth consecutive season with the club.
Griffin returns for his fifth consecutive season in Lightning colours, having experienced Elite League hockey for the past two seasons with the club - becoming Lewis Clifford's fourth signing this off-season.
The 26-year-old right-handed defenceman has built up plenty of experience so far in his career, with 295 EIHL games under his belt along with 212 regular season games in the old EPIHL.
During Lightning's brief tenure in the top tier, Griffin didn't look out of place and was a reliable player along the blueline - even being utilised on offence for his impressive forechecking ability and physicality.
In the new NIHL, Griffin will be seen as one of the premier players that could easily have opted to remain in the Elite League and will be a huge boost for the team's blueline, which already has long-time Lightning favourite Leigh Jamieson signed up to return for the 2019/20 season.
Having already experienced great success in the second tier, Griffin will undoubtedly be hoping to help guide the team back to winning ways and see the club earn silverware by the end of the season.
Speaking of his return to the club, Griffin commented: "Its a pleasure to be back at the Lightning for another season."
"The fan base here is so special and it's amazing to play in front of crowds like that - the Lightning fans back the team on the ice no matter what. It's very special to have the chance to play in an atmosphere like that."
He added: "Lewis (Clifford) has some excellent signings lined up and I genuinely believe Lightning will be a competitive outfit. With the crowd behind us, I don't see any reason why we can't be challenging for a trophy next season."
Lightning head coach Lewis Clifford also commented on his new signing, saying: ''Obviously I am delighted to have Griff on board for next season and I'm looking forward to working with him again after enjoying a successful period together in the old EPL."
"Griff is a guy who any team in the league would be ecstatic to sign, he is an outstanding defenceman, plays extremely hard every night and his skating ability and natural sense of positioning and timing makes him very hard to beat."
He added: "Playing back in the Elite League the last couple of years hasn't allowed Griff to show his offensive capabilities as much as he would like, but I certainly think we will see him contributing regularly in the offensive zone as well as being a lynchpin in our end."
He concluded: "Having said all that about Griffs' ability on the ice, a huge part of the signing that's just as important to me is that he is a great guy and someone who will make us a better organisation on and off the ice.''