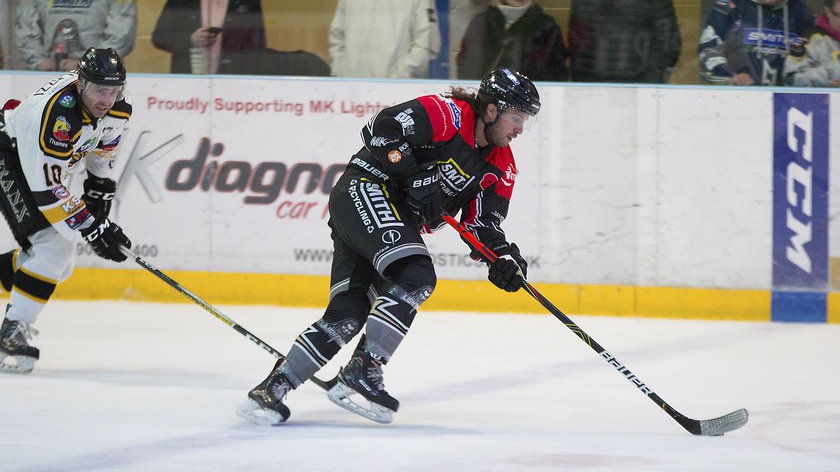 Image Credit: © Tony Sargent
After arriving in the country just a few hours before puck drop, the Smith Recycling Milton Keynes Lightning's Liam Stewart put on a performance well worth remembering.
The former Team GB international arrived in Milton Keynes with much anticipation, having already racked up points in the Elite League and earning MVP honours during his stint in New Zealand.
Lightning fans were treated to a spectacle from their new arrival, seeing the 25-year-old partner well with Cale Tanaka and Tomas Kana and earning two goals on his home debut.
All of this came just hours after he arrived in the country from his long haul flight from Los Angeles.
Speaking of his impressive debut at the end of the game, Stewart commented: "Yeah, you know, jumped off the plane today, luckily. I had good linemates, the whole bench played awesome. It was a good team effort and, hopefully, we can pull off the same thing tomorrow."
Travelling half-way across the world before lacing up and scoring two goals in his debut is an impressive feat.
Despite his calm composure on the ice, afterwards, Stewart commented on how he was really feeling: "It's been hectic. Went through a lot at home and took a ten-hour flight over here and then jumped off the plane."
"I just feel I'm just kind of in la la land, just delirious a little bit. Hopefully it all comes down tomorrow and my legs don't feel like falling off."
Stewart's debut game was highlighted by his first-ever goal with the club, an impressive breakaway goal sent top-shelf over the shoulder of former Lightning goalie Adam Goss.
Speaking of his first goal with the club, Stewart said: "I thought TK [Kana] put it in, I didn't even know I scored it. I thought it went off the post and it was just sitting there."
"It felt good when he told me I put it in and to get that first one in your first game feels good and hopefully I can keep doing the same thing."
His second day in the country saw Stewart show no signs of jet lag, with another goal and assist helping steer the Lightning to their first four-point weekend of the season.
With Stewart's EIHL experience, though, many have wondered what brought him to Milton Keynes. With the man explaining: "I kept in touch with Russ Cowley and I knew Cale [Tanaka] and [Jordan] Stokes and a couple guys, I knew Griff, and it just felt right at the time and luckily everything worked out."
"Obviously I came a little later than expected but I heard nothing but great things about the fans and obviously with the reception tonight it was awesome and hopefully I'll keep that up all year."