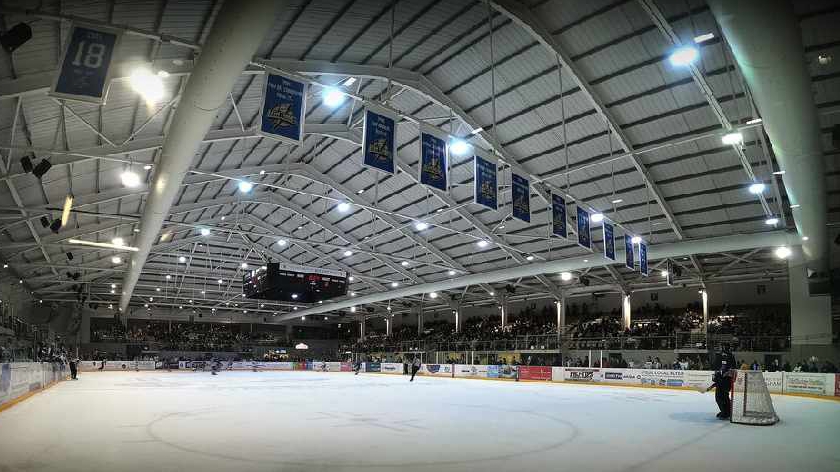 Image Credit: © Tony Sargent
Whenever a team signs a player there is often great intrigue and discussion as to how they will fit in, but there are times when a club legend makes a return and those discussions are not necessary.
With the Milton Keynes Lightning playing in the NIHL for the 2019/20 season, it has presented the club with an opportunity to bring back a number of truly popular players.
Leigh Jamieson is one such player that has returned to Milton Keynes after a couple of seasons away, with the former Great Britain international looking forward to suiting up for his home town team once again.
Speaking at the team's pre-summer get together, Jamieson explained: "[I'm] excited, to be fair. It's nice to be back in my home town, where I want to be. Really looking forward to the season."
"Cliff contacted me and said, 'look, would you come back to Milton Keynes?' and I said yeah, definitely."
"It's where I want to be, in Milton Keynes. We agreed and it's good, I'm glad to be back."
For Jamieson, playing for the Lightning has extra importance as it is Milton Keynes' primary team and one that has often relied on players that have been brought up through the local development system.
The team this year has four players who were born in the town and a number that have played for the MK Storm youth teams at various stages of their careers.
Speaking of his teammates this season, and those he is already familiar with, Jamieson commented: "We've always had a good core of players from Milton Keynes or that have moved and just kind of stayed here."
"We've all kept close and some haven't come back but it's nice to play with your friends but also people that you've played with in the past, who you trust,"
He continued: "[People] you've built up a great relationship with and who you feel like are the sort of people you want to be playing with every week."
"I know the lads that we've got will stick together and we'll hopefully have a great year."
At 33-years-old, Jamieson is a highly experienced veteran player that will be looked at to provide leadership and guidance to the team's younger core, both on and off the ice.
Speaking of what he needs to do to help the team in this particular role, Jamieson commented: "I think being an older, more experienced sort of player you have to set an example and obviously teach the young lads certain things."
"They need to learn certain things about the game still, they are still very young but they'll get there."
He added: "I'll try and help the team with my performance but also teaching them the things I've been taught in my career."
"Hopefully [I will] teach them in the right way, that's the most important thing, and help them improve as well."
He concluded: "Everybody wants to improve. Even at 33 you still want to improve and be the best and that's what I want, to be the best and hopefully make the team successful and teach the young lads to be successful."