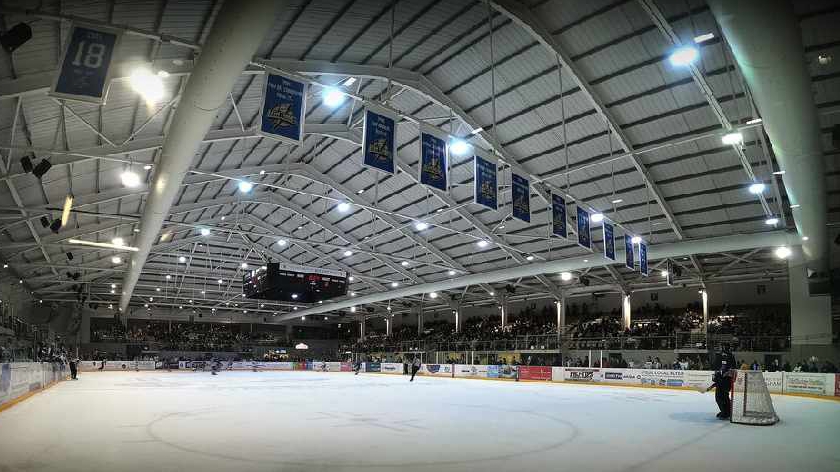 Image Credit: © Tony Sargent
​​​​​​​There are many instances of sporting legends returning to the club where they are most synonymous with, and that happened when Grant McPherson re-joined the Milton Keynes Lightning this summer.
The veteran Scottish forward started his professional career with the Edinburgh Capitals before opting to take his talents far south of the border to Milton Keynes.
In his first season with the English club, McPherson impressed enough to earn himself a place on the Great Britain World Junior Championship (D1) squad – helping guide the national team to a bronze medal.
With the Lightning, McPherson became an icon, renowned for his gritty and feisty style of play that endeared him greatly to the fans.
11 years, 472 regular-season games and 150 points (61 goals, 89 assists) later and McPherson saw his name and number 9 lifted high into the rafters at Planet Ice MK Arena.
To many, that was the end of an era and one that some still pine for after the struggles of the past two seasons.
With McPherson returning to the team, hoping to guide them into a new era and, hopefully, new successes, there is a real buzz around the team.
Speaking at the team's recent pre-summer get together, McPherson spoke of his delight at being able to return to the club.
He commented: "It feels unbelievable. If I'm honest, I didn't ever expect this opportunity would ever arise again."
"It's funny how hockey works. As soon as Cliff said he wanted me to be a part of the team, there was only one answer that it was going to be."
"I'm feeling good and ready to go."
Having already seen his number raised years earlier, McPherson had the unique experience of seeing it taken down so that he may don his regular number in the season ahead.
Speaking of how he felt about it, McPherson said: "It was a bit of mixed emotions, it was nice seeing it up there but in a way, it's exciting because I didn't feel like I was ready to stop playing and, as everyone knows, I love the Lightning organisation."
He added: "To be given the chance to play in front of the fans again, the answer was only going to be yes, and it wasn't right that I would have been playing in a different number so it had to come down."
"It was my choice and hopefully it'll go back up after I stop playing but, as of right now, it was right to come down."
McPherson has come a long way in his career, featuring in the World Junior Championships during his first season in Milton Keynes, but the Lightning legend is now entering a different stage of his career at the age of 32.
With the club bringing in a number of players aged 18 to 20, McPherson will be looked upon for guidance and mentorship.
Commenting on his role with the team, he explained: "I've been the young player myself and I know how much it means to have older players support you and lead the way."
"I'm now in that position myself, it doesn't feel good saying I'm older but it's something I'm proud of."
He added: "I will try and mentor these guys as much as I can, show them the way, share my experience."
"We've got a lot of good kids, I know most of them and I know that they'll be willing to listen and I'll be trying to get them to play as hard as they can every night."
Having a player of McPherson's standing can only be a positive for any head coach of the team and Lightning's Lewis Clifford is more than familiar with the Scot, having worked together for many years already.
McPherson explained: "I've known Cliff since I moved to Milton Keynes in 2006, he was assistant coach with the Lightning and then he was my head coach for the last two years with the Thunder."
"It's great to see him grow as a person as well, it's great to see him being given this opportunity of being the head coach of the Lightning."
He concluded: "I'm looking forward to working with him, I think we work well. He knows he can trust me and I can trust him and I'm sure we'll continue this relationship going forward so it's exciting."