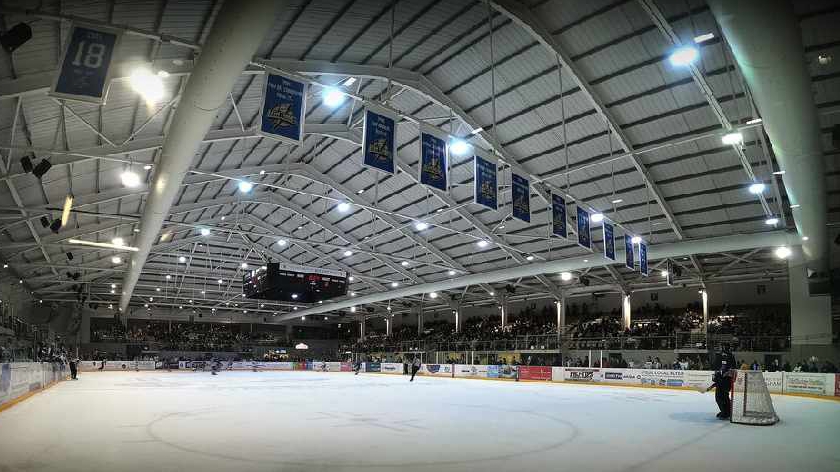 Image Credit: © Tony Sargent
For many years, Ross Bowers was synonymous with the Milton Keynes Lightning. After a few years away and hanging up his skates, he is back behind the benches.
Bowers, instantly recognisable on the ice by his #61 jersey during his time with the Lightning and Milton Keynes Thunder, is now stepping into the world of coaching.
The 34-year-old stepped away from the playing side of the game in extremely difficult circumstances, suffering an eye injury as a result of a high stick with just four games left to play before his planned retirement.
Speaking at the team's recent 'Meet the Players' event ahead of the new season, Bowers talked about everything from his health, recovery, the response from the wider hockey world as well as the new challenge of coaching alongside long-time friend Lewis Clifford.
When asked how he was feeling after everything that has happened this year, Bowers explained: "Regarding the eye, I'm absolutely fine to be honest [just] sort of keeping busy. I've got another eye operation next Monday, that'll be my fifth, so it's just a lot of that going on to be honest, in and out of hospital with a couple of months between each one."
"Hopefully, if that operation goes well, it will be the penultimate one, setting me up for the final one which, to be honest, I'm just looking forward to getting there and just being at the end of it now."
Bowers, a humble, down to earth man, was surprised by the response of the fanbase and the crowdfunding that saw 850 people and organisations pull together to raise £33,808 to support him going forward.
He commented: "It's very surprising and amazing to see how many great people we've got in this sport and the wider community."
"It was such a lovely thing for everyone to do and, to be honest, that has now put me in a [better] situation."
He added: "That money that was raised, the last surgery if everything goes well with this next one, will be flying to America and having a bespoke iris made because of the iris tissue that sticks out of the eye from the high stick."
"It allows me now to be able to go private and have what would be a very expensive operation. I'm now in a position where that will all pay for that."
"It's amazing and I can't thank everyone enough, it's really special. The hockey community does it time and time again, it's a really great bunch of people."
Despite seeing his playing days ended in the most difficult of circumstances, Bowers has made the transition into coaching and, despite not originally considering it as potential option initially, appears to be quite pleased with his new role.
He explained: "Me and Cliff are close personal friends. When he first got the job it was something that was mentioned and, at first, I was quite adamant that I wouldn't enjoy it."
"I've always enjoyed being a real team guy, being in the mix and having a crack with the boys and I love shooting pucks."
"They were kind of like my two things and I thought as a coach I wouldn't be able to do either of those things because you have to have that bit of separation from the lads."
"Then, actually, the more I thought about it the more I realised I have been around for a long time, I've played for some really good coaches, I've played alongside some really good players and I've got a lot of experience and knowledge that I can pass on."
He added: "The closer the season's gotten, the more excited I've been about it so, yeah, I'm actually really looking forward to it."
"It's going to be a new challenge and my role will change as the year goes on, in different situations and environments I'm sure, but we've got a great bunch of lads, obviously Cliff I know very well, so there's a lot of help for me as well."
Now that he has taken on the role of an assistant coach, Bowers commented on how he feels and envisions his position moving forward.
He commented: "I'll be honest, walking into the coaches room instead of the changing room is a little strange. You just have to manage it as you go, they are such a good bunch of lads and even in the room there's a big mixture of experience there."
"You've got guys that are thirty-six years old, that have played since they were three and then you've got some young kids that are eighteen years old there."
"There are kids on this team now that were one-year-old when Lightning was formed [in 2002], so there's that massive mixture in there."
"I look at myself as the bridge between Cliff the head coach and the team. Hopefully, if there's something they don't feel they would approach the head coach with, they can come to me with it."
"Obviously, Cliff is going to be busy on game days looking at the bigger picture so maybe I can concentrate on the finer details."
He concluded: "Maybe if someone's confidence is low or we need to work on something, I can work on that while Cliff takes care of the bigger picture."