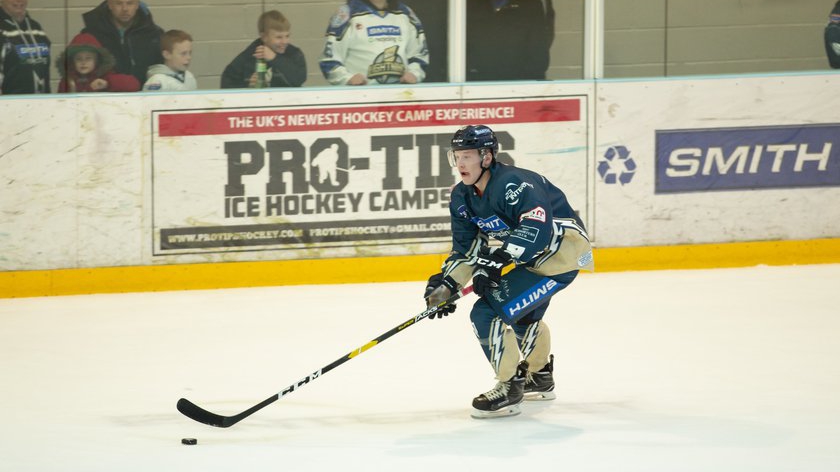 Image Credit: © Tony Sargent
The Milton Keynes Lightning continue to build a competitive roster ahead of the 2019/20 NIHL season with Scottish forward Harry Ferguson making a return to the club.
The 20-year-old Ferguson joined the Lightning during their most recent campaign in the EIHL, making the short journey down from local rivals the Peterborough Phantoms.
The 6-foot tall forward featured in 49 games for the Milton Keynes club in the top tier, earning two assists, and has 127 total appearances at that level, having previously played for the Edinburgh Capitals.
The gritty winger became a fan-favourite during his spell with the Lightning, regularly playing the role of agitator and showing a willingness to stick up for his teammates, despite still being a teenager for the majority of the season, leading to 28 penalty minutes.
Ferguson has shown himself to be a top young player in the second tiers of both England and Scotland, averaging above a point-per-game with clubs such as the Edinburgh Capitals SNL and Phantoms.
Now he is back in Lightning colours, this time under the tutelage of head coach Lewis Clifford, and will be hoping to make regular contributions in front of the net in the NIHL.
Coach Clifford commented on his new signing, stating: "I am really happy to bring Harry back to MKL, having started last season at Peterborough and scoring well, he made the move over here and every time I met him he was a pleasure to deal with."
"He is a big lad, he plays hard every night, competes and battles along the walls and in the corners and goes to the net with a purpose."
He concluded: "He isn't one dimensional, he has good hands and a good shot and I will be able to use him in a variety of situations, knowing that he will do exactly what is asked of him every time he steps on the ice."
Ferguson, speaking of his return, commented: "I'm glad to be returning to Milton Keynes, and I'm really excited to be working with Cliff for what should be a very exciting season."
He added: "After the support we were shown last year by the MKL supporters, which was above and beyond what any player can expect, I hope to see the same enthusiasm which will push every player in the locker room to make something special happen this year!"
While the young Scot wore the #7 jersey during his spell with the Lightning in the EIHL, he will wear #14 for the 2019/20 campaign - reverting to a number he has worn a number of times previously.