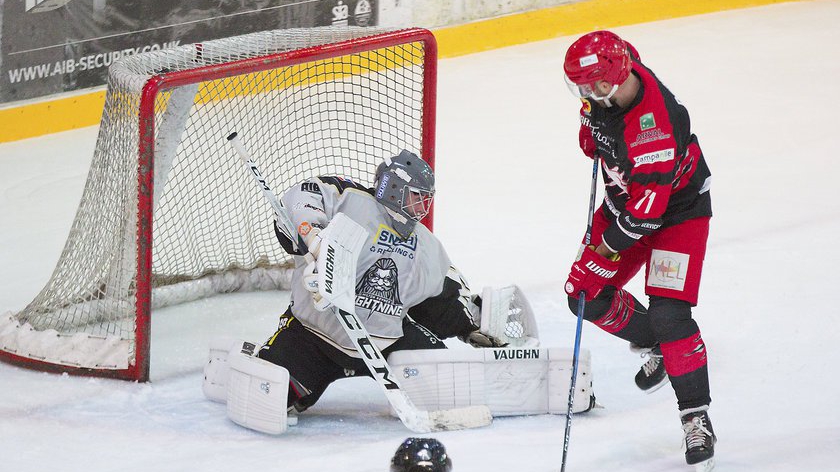 Image Credit: © Tony Sargent
The Smith Recycling Milton Keynes Lightning continued their preparations for the 2020/21 season by announcing the return of goaltender Brandon Stones.
Stones was a part of the Lightning team during the 2019/20 NIHL National campaign, featuring in 21 regular-season games, posting a .894 save percentage, allowing 34 goals on the 321 shots he faced.
He was a reliable backup during the spell that saw Jordan Lawday sidelined with an injury. Unfortunately, Stones missed the majority of the season through an injury he suffered himself, though was regularly in attendance at games while unable to play.
His positive attitude and overall presence in the dressing room throughout the campaign saw him named Coach's Player of the Year at the end of season awards.
The 27-year-old Nottingham native has a wealth of experience within British hockey, having played at every level of the men's game, including brief spells with the Coventry Blaze, Edinburgh Capitals and Sheffield Steelers in the Elite League during the early days of his career.
He also represented Great Britain in four games during the Under-18s World Junior Championships (Division I) in the 2010/11 season and has played the majority of his career with the Sheffield Steeldogs and Sheffield Spartans.
His work ethic and performances when he was in the net were more than enough to convince head coach Lewis Clifford to bring him back for a second season.
Speaking of Stones returning, Clifford commented: "Stonesy is the type of guy you would always want in your team, a selfless guy who always puts the team first and brings a lot of positivity and dedication to the locker room."
He added: "Last year was tough for him picking up an injury early and then finding himself left out of the line up a lot when we had 3 goalies, but his commitment never strayed and he continued to be a huge part of the team."
He concluded: "I'm really happy to have Stonesy back, a great guy off the ice and a great goalie on it, I'm looking forward to having him on board, fit, strong and ready to go."
Speaking of his decision to remain with the Lightning, Stones commented: "I'm really pleased to be coming back to MK for a second season. Last year didn't quite finish how we had hoped so I felt like a lot of the boys did, that there was unfinished business."
"When Cliff started talking to me about next season I already knew I wanted to stay and be part of the MKL family."
He concluded: "I'm really excited to get back and get going, I like the direction we're heading and I know we will be contending for silverware."