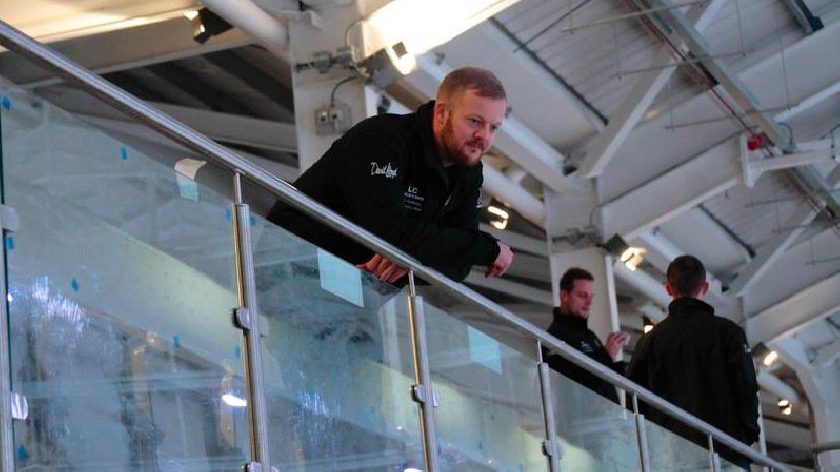 Image Credit: Jez Tibbetts
​​​​​​​Milton Keynes Lightning has undergone a swift and significant makeover since the end of the 2018/19 EIHL season concluded.
The team has dropped down into the second tier of British hockey, the newly formed NIHL National league, and changes have been made to ownership, branding and, of course, to coaching.
The Lightning will enter the 2019/20 NIHL season led by a man that is well-known and well-liked and respected in the Milton Keynes hockey environment.
Lewis Clifford, a born-and-bred native of the town, has been involved in hockey in the town since the early days of his player careers shortly after the turn of the century.
As well as lacing up as a player for the Lightning and Milton Keynes Thunder, Clifford has coached at all levels of the game, having previously been an assistant to both Nick Poole and Pete Russell with the Lightning, head coach of the Thunder and is the director of coaching for the various MK Storm age groups in the town.
Now he embarks on his latest challenge, as the head coach of Milton Keynes' premier club, which has had a significant amount of uncertainty over the past two years.
Speaking at the team's pre-summer get together, Clifford was in a positive mood about the team and showed clear excitement for the challenge ahead.
When asked about his feelings towards the opportunity he had with the Lightning, Clifford commented: "It feels great. Obviously, it's a new dawn for the team really, it's been a tough couple of years for the people that have been here supporting the team."
"I feel really good about the fact that we've got almost like a fresh start, a new page to be turned and yes, there will be some familiar faces coming back because there has to be for it to work."
He added: "But also we're bringing a whole load of brand new people that the fans in Milton Keynes have never seen before and I think that mix will excite people and get everyone into it."
"I'm just really looking forward to getting going now."
As Clifford mentioned, a number of familiar faces are returning to the club after some time away.
This includes some club stalwarts in Leigh Jamieson and Grant McPherson, as well as previously popular players such as Ben Russell.
When asked about how important it was to bring in players that are familiar with the club and know what playing in Milton Keynes is all about, Clifford explained: "It's really important to me. I think last year was the first time ever that there was a Lightning team on the ice that didn't have a single person in it that had come through the junior development here [in Milton Keynes]."
"The year before that, Jordan Hedley was still here but that's just one and, to me, that's not fundamentally right."
He added: "This year, we're going to have five or six players that have played in the juniors here at some point in their career, like Leigh Jamieson, Ben Russell, his brother Sam, Ross Green, Hallden Barnes-Garner. Those guys, they've all played juniors here."
"Yes, they've all been elsewhere at some point to get experience at higher levels or of hockey in different countries, but it's very important to me that we have an identity."
"I'm a Milton Keynes person through and through, I was born here, raised here and it's very important to me that the team represents our town."
Clifford's time working in the Milton Keynes youth system has been clearly presented in his approach to recruitment this summer, with a number of players such as Callum Robertson, Brodie Jesson and Rio Grinell-Parke being 20 years old or young.
And Clifford truly believes in developing the players of the future, stating: "Absolutely, that's the future of the game."
"Whether it's a ten-year-old taking their first steps on the ice, or a sixteen-year-old where their career can go one way or the other, making it into a successful senior team, or maybe that's not what they want and they just want to play rec."
"It's being able to provide opportunities for those players and what's important to me is that a young kid now can look at someone like Leigh Jamieson or Ross Green and go, well he played for the under-15s in Milton Keynes when he was my age."
He added: "That's really important to me. That the players in the junior system can identify with the guys on the ice, because once upon a time they were the same as those guys are now."
"And that's how you safeguard the future of the club."
While Clifford is keen on bringing through young players that can be role models and players that today's youth can aspire to be like, he understands that veteran leadership is crucial to fostering that development.
Clifford confirmed that this season will see players don the coveted captain's 'C' and alternate captain's 'A', with no player receiving that honour last season – despite player-coach Tim Wallace operating as the club's de facto captain.
He explained: "There will definitely be a captain and two alternates. I'm not able to share that information at the moment, I'm not going to tell anybody who the captain is going to be before I've told my team."
"But, certainly, we've got a very strong leadership group. Some guys with have a letter on their shirt and some won't but that doesn't mean they can't be leaders."
He concluded: "We will have a guy with a 'C' on his chest and two guys with 'A's on their chests and, just like the other senior players on the team, they'll be expected to lead and show these young guys the way forward."