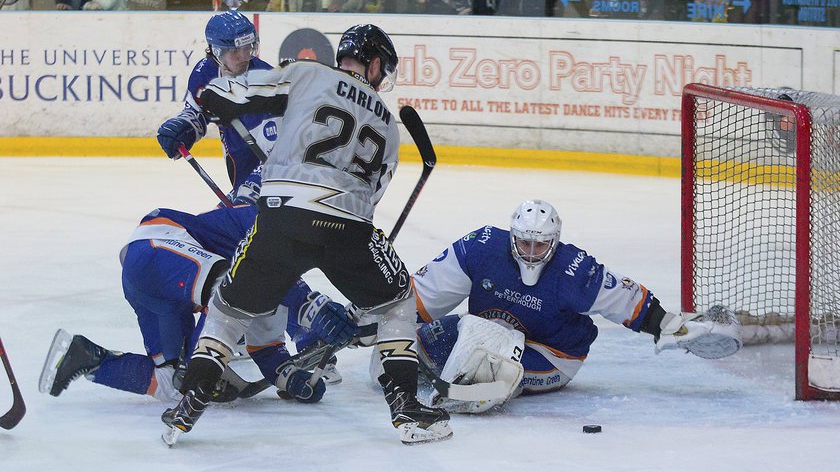 Image Credit: © Tony Sargent
The Smith Recycling Milton Keynes Lightning face-off against bitter 'local' rivals the Peterborough Phantoms tonight, hoping to continue their impressive run.
The Lightning (11-13-2) have won seven out of their last eight games and are unbeaten in their last four, with results coming against some of the strongest teams in the league in Telford Tigers, Sheffield Steeldogs and Basingstoke Bison.
The results have seen Lewis Clifford's men climb to seventh in the NIHL National, proving to the rest of the league that they are capable of going toe-to-toe with anyone, especially with a healthy roster.
The last time the Lightning faced the Phantoms came just before their run of good form, a 4-2 home loss on Saturday 23rd November, so there will be plenty of determination to show the visitors that things have changed a lot since then.
The usual suspects will be relied on heavily on offence, with Tomas Kana still leading the team in points produced with 31 (12G, 19A) while Liam Stewart's exceptional partnership with Robin Kovar has helped him to 19 goals in the league already (22 total points), despite playing just 13 games to date.
One goal for Stewart will see him earn his 20th, while Cale Tanaka is still hunting for his 10th of the season, with the Canadian playmaker sitting second on the team in total points with 28. Kovar's 14 points in eight games has impressed the Lightning enough to sign him for the remainder of the season and his ability to find the right spot on the ice at the right time has helped the team greatly in recent games.
One of Jordan Lawday or Dean Skinns will be between the pipes in this game, with the 20-year-old Lawday finally starting to see the ice a bit more often, helping the side to two of their seven recent victories.
The home side are in a much stronger position heading into this game, but will still need to be wary of the Phantoms' threatening offence, with Ales Padalek (21G, 20A) and Martins Susters (20G, 19A) both already having 20+ goals each while Petr Stepanek (16G, 21A) caused plenty of problems for the Lightning the last time the two sides met.
In what should be a feisty affair, tonight's derby game between the Lightning and Phantoms gets started at 7pm at Planet Ice MK Arena.