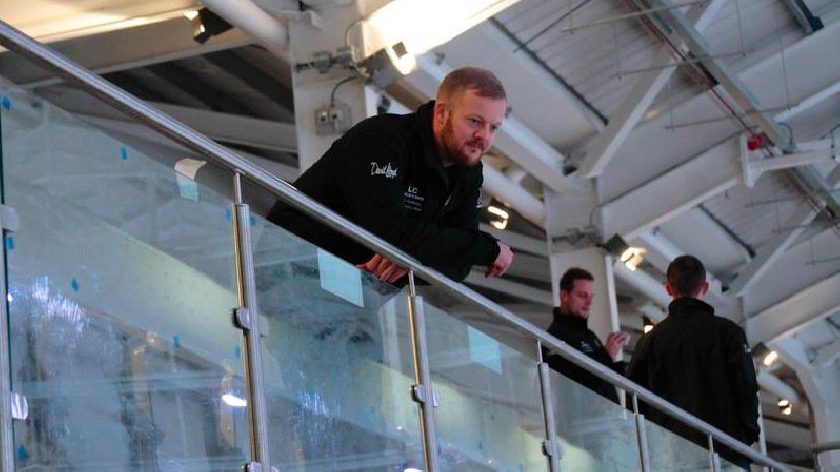 Image Credit: Jez Tibbetts
The Milton Keynes Lightning have announced that talented young Scottish forward Calum Robertson has re-signed with the club ahead of the 2019/20 NIHL season.
Robertson originally signed for the Lightning under the club's previous ownership and has now followed Russ Cowley, Leigh Jamieson, Jordan Lawday and Rio-Grinell Parke in re-signing after the recent ownership change.
Despite being just 18 years old, Robertson has dominated at every level of the game in his native Scotland, including the SNL - where he has earned 35 goals and 69 points in just 36 regular season appearances.
The Kirkcaldy native, who will wear the #20 jersey in Milton Keynes, impressed so much during his time in the Scottish leagues, he earned regular ice time with the Edinburgh Capitals and Fife Flyers over the past two seasons - earning two goals and an assist in 78 regular season appearances.
In the NIHL he will be able to play far more minutes than in the top tier and will be able to continue his development under the guidance of head coach Lewis Clifford.
Speaking of his signing, coach Clifford commented: "Caly has a whole load of raw talent and huge potential. I've seen him play for GB U18's in their televised games a year ago and I was lucky enough to see him play in the England v Scotland game at the conference tournament over the May bank holiday weekend - all national bias aside, he was one of the best players on the ice for either team."
He added: "In the past we have had a great deal of success in signing talented young Scottish players, and I am pleased to have signed Caly to hopefully continue that pattern of success."
He concluded: "He brings the experience of training and playing with an Elite League team in Fife (and Edinburgh before that) and that will hold him in good stead to play a much larger role on our team where we'll give him the opportunity to use his skills and abilities in a variety of situations."
Robertson himself commented on his decision to join MK Lightning, stating: "I've signed because I think it's a great opportunity to play in this new league and seems to be a great fit for me and where I'm at in my career."
He concluded: "I've chosen MK because I've heard nothing but good things about the organisation and coach, and I'm definitely looking forward to playing in front of the barmy army - they've been incredible the times I've experienced playing in MK!"