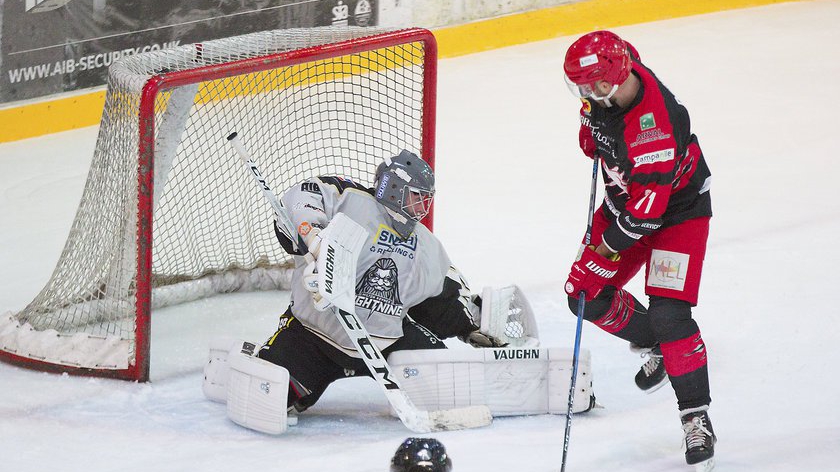 Image Credit: © Tony Sargent
The All In Black Milton Keynes Lightning have announced the return for goaltender Brandon Stones for the 2021/22 season.
Stones, 28, was set to play a second season with the Lightning in 2020/21 but was unable to due to the ongoing Coronavirus pandemic ruling out a regular season for British hockey.
He originally joined the team during their first season back in the second tier in 2019/20, where he was named Coach's Player of the Year after some impressive performances combined with his positive attitude and off-ice influence during a period side-lined by injury.
Stones appeared in 21 games that season and registered a save percentage of .894 and a goals against average of just 1.62, contributing to the team's impressive form in the second half of the campaign - seeing them finish sixth in the league.
Now, the former staple of Nottingham and Sheffield hockey will suit up once again for the Lightning as they look to return to normality this autumn.
Speaking of Stones' return, head coach Lewis Clifford said: "Stonesy is a guy who loves playing in MK, he is a popular player amongst his peers, and as a coach he is low maintenance and does everything asked of him every time he comes to the rink."
"Last season didn't really happen but the one game he got to play in, he was excellent and took charge of the crease, making all the saves he should make, and some he probably shouldn't have stopped as well."
He added: "I know Stonesy wants more responsibility this coming season, and I intend to give him more game time than he has had here previously, I don't doubt that he will turn up for the season with the attitude and desire to battle for his ice time and show us all what he's capable of."
Stones himself said: "I'm really excited to be back in MK for the upcoming season."
"My first year here was a bit injury plagued and last year was hard to come by games/ice due to the pandemic so I view this season as an opportunity to show what I'm capable of on a consistent basis."
He concluded: "There was never a doubt that I'd love to return to MK and can't wait to get get going and give everything I have for the club, fans and teammates. I have no doubt we will be challenging for honours across the season."