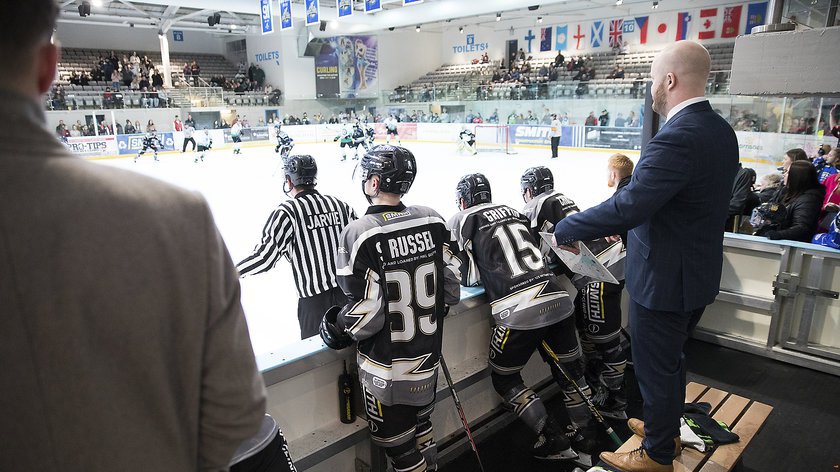 Image Credit: © Tony Sargent
The Smith Recycling Milton Keynes Lightning have today announced that Bobby Chamberlain has returned to the club ahead of the 2020/21 NIHL season.
Chamberlain previously played for the Lightning between 2015 and 2017, registering 33 goals and 69 total points in 80 regular-season games in the old EPIHL.
Since then, the 25-year-old right-winger has been a dominant force in the second tier of British hockey for the Hull Pirates. In 93 regular-season games in the old NIHL 1 and last season's NIHL National, Chamberlain has scored a whopping 129 goals and registered 258 total points.
He finished the 2019/20 campaign as the joint-third highest goalscorer in the league with 37, tied with fellow Pirates teammate Lee Bonner and the Lightning's own Liam Stewart.
Now that he is returning to Milton Keynes, fans will see him once again don his familiar #10 jersey, as he did the last time around.
Speaking of Chamberlain's return to the club, Clifford commented: "Bobby is a huge character and someone who I'm very excited to have in an MKL shirt when the season starts."
"Over the last few seasons, his offensive stats have spoken for themselves, but that really is only a small part of the package we have brought him here for."
"He is a guy who will do whatever is needed for the team, whether it's scoring an important goal, opening up space for his linemates or blocking a shot, he will do anything he needs to for the team."
Chamberlain is not only known for his keen goalscoring and playmaking talents but also his physical style of play, which has led to him dropping the gloves on occasion and suffering from a number of other penalties, with 156 combined penalty minutes last season alone, 23 more than Tomas Kana - the Lightning's leader in this category.
When discussing this, including some injuries and suspensions that kept the forward sidelined at times last season, Clifford explained: "Bobby has missed some hockey through injury and suspensions the last few years, but he will come here focussed to play all season."
"He has an undeniable physical game but he knows when he's playing here there is a time and a place for everything, and I trust him to always put the team first."
Speaking of his return, Chamberlain said: "I feel like this offseason I've had a lot of doubters and negativity and I can't wait to shut all of that down and do what I do best, prove everyone wrong and turn up when it counts."
"It's been a bit of a crazy year for everyone but I can't wait to get back on the ice, especially in MK which has always been my favourite place to play. The fans are loyal and get behind the team no matter what, which you can always respect."
He continued: "There was some unstableness a couple of years back but now it seems to be an amazingly run club again, so now's the time to get behind the lads and look forward to some silverware again and being the big dogs once again."