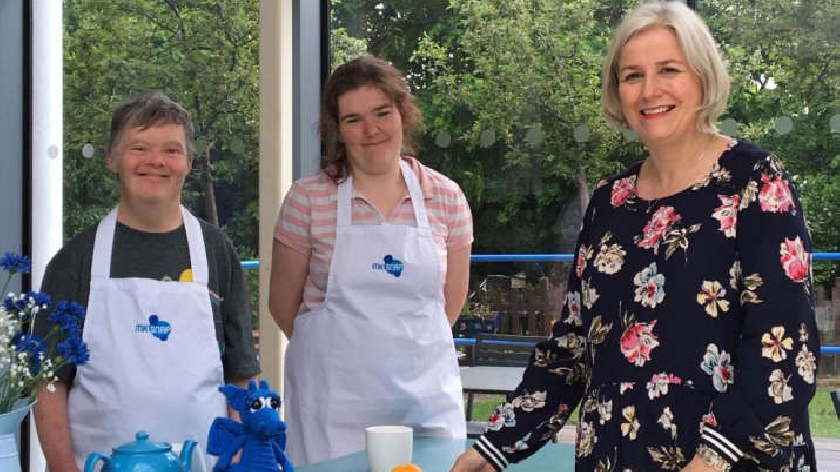 MK SNAP are currently recruiting a Community Café Lead Role. Find out more information about the role and how to apply here...
About MK SNAP (Milton Keynes Special Needs Advancement Project)
MK SNAP is a passionate, dynamic local charity that unlocks the talents and skills of people with learning disabilities through inspirational education and learning opportunities – empowering them to reach their potential and live as independently as possible.
This year MK SNAP is marking 30 years of providing high quality support and services for people with a combination of learning, physical and behavioural challenges. The people they support include those with brain injury, through birth, accident or stroke, Downs syndrome, cerebral palsy, those on the autistic spectrum.
Walk through the doors at MK SNAP and you will feel the energy, hope and pride that is lighting up the lives of people with learning difficulties.
Community Café Lead Role
The Community Café is very much part of the heart of MK SNAP. Their fully-equipped commercial kitchen opens out into a wonderful light and airy dining area. They also have a large outdoor decking area overlooking a beautiful garden. Based in Walnut Tree, the Community Café attracts parents, carers, friends of MK SNAP, walkers, cyclists and members of the local community.
MK SNAP are hiring for a Community Café Lead, so they can re-open our wonderful café.
Requirements of the role:
Are you a passionate baker?

Have you always dreamed of having your own café?

Do you have the qualities to work for a charity that supports people living with a learning disability?

Do you want to work in a fun environment where everything you do has a direct positive impact on others?

Do you want to make a difference?

Are you good with people and enjoy interacting with the community?
Location: Walnut Tree, Milton Keynes
Closing date: 20/05/2022
Salary: £9.90 per hour
Employment type: Part-time 16 hours per week
The role of Café Lead is just one of the opportunities available at MK SNAP, as well as roles for volunteers in their garden, supporting learners in lessons, sports, outdoor trips, fundraising and help raising awareness and organising our events.
If you would like to be part of the MK SNAP family please contact info@mksnap.org
The team believe that new experiences open up new opportunities and can grow confidence and self-esteem. All their sessions are inclusive. MK SNAP believe the more opportunities that are provided the more likely it will be for learners to find their niche and flourish in the community.