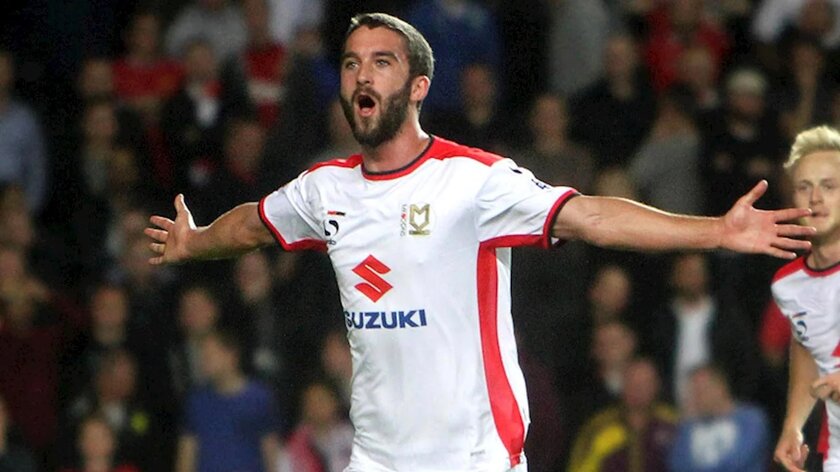 Image Credit: Milton Keynes Dons Football Club
Will Grigg and Russell Martin have spoken of the striker's return to Milton Keynes Dons on a loan spell.
The 29-year-old was the talk for much of transfer deadline day, trending on social media before his move back to Stadium MK until the end of the season was officially confirmed by the club.
Speaking of his return to the Dons, Grigg commented: "I'm so pleased to be back. I'm grateful to everyone at the Club for getting this one over the line and I can't wait to get going again."
"I absolutely loved my time here before. I had such a successful spell, scoring goals and winning promotion and, as soon as I knew about the interest, it was something I wanted to push through."
"Anyone who knows me from my time here previously, knows that if balls are put in the right areas for me, I will score goals. I'm feeling really good at the moment and I'm itching to get back playing."
Manager Russell Martin also commented on Grigg's return, saying: "We looked into it earlier in the window and it wasn't something that was possible. As soon as things changed, he was somebody that, of course, we were interested in."
"A lot of clubs wanted him but he only wanted to come here. That desire from him, and the hard work of the Chairman, Andy [Cullen] and Liam [Sweeting] at our end, meant we were able to get it over the line and I'm delighted we have."
"He's had a difficult couple of seasons but, in my eyes, Will is still one of the best goalscorers at this level and I believe we are the right place for him to get going again. We look forward to working with him."