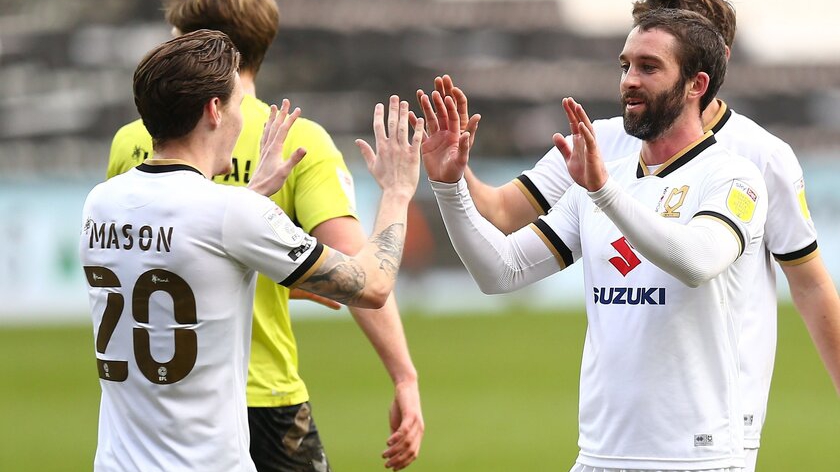 Image Credit: Milton Keynes Dons Football Club
Will Grigg has reflected on his time back with Milton Keynes Dons this season after he won the club's Goal of the Year award on Friday.
Grigg scored after a record-breaking 56 passes were made in a match against Gillingham back in March, having returned to the Dons at the January transfer deadline.
The goal has been name the best of the season for the Dons, seeing the Northern Ireland international claim the award for a second time at the club.
In an exclusive interview with MKFM, Grigg reflected on the goal, another broken record and his time back at Stadium MK, while also answering the unsurprising question over his future at the club - with a year still remaining on his contract with Sunderland.
On his time back with the Dons, Grigg commented: "It's been brilliant, I've said from the first day of being back here it felt like five years ago. It was nice to come back and it felt like home."
"It was easy to fit in and it's been another special part of my career and I've loved every minute of it."
The goal named the best of the season for the Dons was a record breaker, giving Grigg two new records in just a few months of being back in Milton Keynes.
The other came courtesy of the striker's four goals scored in a single match against Swindon Town just a couple of weeks ago.
Speaking on the other record he now holds with the Dons, Grigg said: "It's a massive honour. To be honest, I think it had been coming for a couple of weeks."
"We were playing some really good football and the team were creating chances for me, so it was nice to finally see it all come together in that game."
"I get the credit and score four goals, but it was a massive team effort. The boys have created so many chances for me and on the day, against Swindon, we played so well and they put the ball in great areas."
He added: "I always said if I get chances I will score goals, so to do that on the day and to obviously put myself in the history books for this club is something special."
Grigg's second Goal of the Year award for the Dons came from what he described as being a team effort, with almost every other teammate touching the ball before the 29-year-old finally hit the back of the net.
When asked about the award-winning goal, Grigg explained: "It's not a bad habit to have to be honest, two obviously slightly different goals, the first one against Man United; that was special for its own reasons, this goal this season was an unbelievable team effort."
"It's one of those things where my name's on the scoresheet but fifty-six passes for a goal is unbelievable. I think everyone, bar one player, touched the ball and it's one of those things."
He continued: "Those sorts of goals don't get scored out of chance, it's not something you can just turn up on the day and do. It's hard work on the training pitch, it's unbelievable hard work from the staff, the manager and Lukey [Williams] behind the scenes."
"Then, to be able to put in that cross in the training session and credit to the players for being able to do it on the match day, I was pleased to be on the scoresheet but that was a goal for the team."
"I touched it quite early on and didn't have much to do with the build up, and we worked our way up the pitch and then Lewie played a great ball into me."
"I think me and Scotty [Fraser] were on the same wavelength, we've got a great partnership and I saw him close by; we just linked up and before you know it, I'm at the edge of the box with a shooting opportunity."
He added: "As soon as I got it in that area, I knew I had a chance to get a shot away and it's just really nice to see it go in."
Grigg's time with the Dons will come to an end after tomorrow's match against Rochdale, and many around the club would love to see him return on a permanent basis in 2021/22.
Speaking on his situation, Grigg explained: "It's one of those things, I've got another year left at Sunderland and as far as I'm aware at the moment I'll be going back there in pre-season."
"Football's a funny game, you never know what's going to happen, there's obviously lots of factors to go in if anything's going to happen, but the support from the fans has been unbelievable from the first day I came back."
He concluded: "That was part of the reason why I wanted to come back, because of my rapport with the fans and my relationship with the club from previous times, so it's great to be back and you never know what's going to happen in the future."