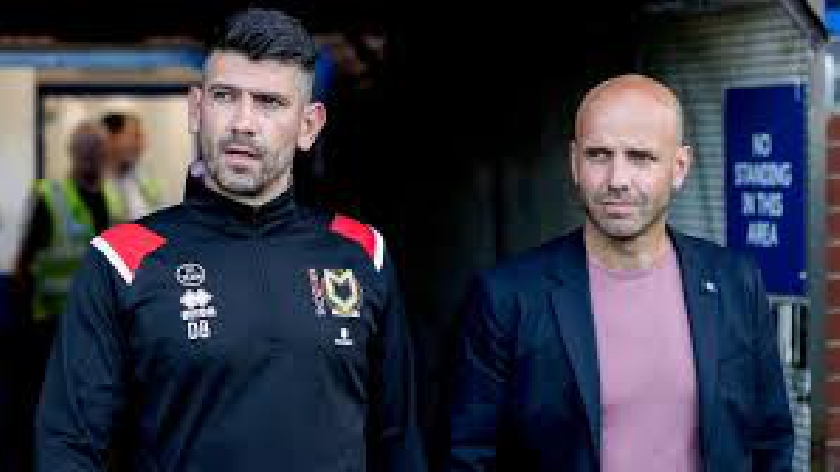 Paul Tisdale was pleased with the way in which his side secured their place in Round Three of the Carabao Cup.
MK Dons progressed in the competition thanks to a 4-1 win over Southend United at Roots Hall on Tuesday evening.
Tisdale's men were on target twice in each half, through Rhys Healey and Callum Brittain before the break and substitutes Hiram Boateng and Sam Nombe late on.
It was the perfect response to last weekend's defeat to Peterborough United and ensures the Dons will be in the third round of the Carabao Cup for the first time since 2015.
"It feels great to win," Tisdale said in his post-match press conference. "It was a good performance and there was a real snap in our play.
"It looked comfortable in the end, and it was, but there was a tough 15 minutes in the second half. They matched us up and gave us a really tough 15, 20 minutes but we weathered it and the game came back to us with some really good goals."
He added: "We cannot get too pleased with ourselves because football can turn around very quickly, as we saw in the last three days but it was a really good performance, we're delighted with how we played. On to the next round."
There were a number of positives for Tisdale, not least a goal for Rhys Healey on his first of the season and 90 minutes in the tank for midfielder Alex Gilbey - his first full match since March.
The Dons boss was has happy to see Sam Nombe on target for the first time in an MK Dons shirt and his fellow Academy graduate David Kasumu impress once again in the middle of the park.
"It's good for Rhys – 60 minutes, a goal and a first start. He seemed to blow a gasket on the hour mark because he plays as he does, he gives everything and doesn't pace himself! As a manager, that's a good thing.
"We weren't planning on 90 minutes for [Gilbey], but it was a very long final 15 minutes for him! That's his first 90 minutes for a long time.
"I'm delighted for Sam, scoring his first senior goal. I's a big, big moment for him and he's delighted. I'm chuffed for him.
"David Kasumu again was excellent. He is beginning to step forward into our thinking. He's an instinctive player who makes good decisions nine times out of 10. He reads danger, he is very tight with his technique under pressure and he's stepping forward as somebody who could make us change our mind."