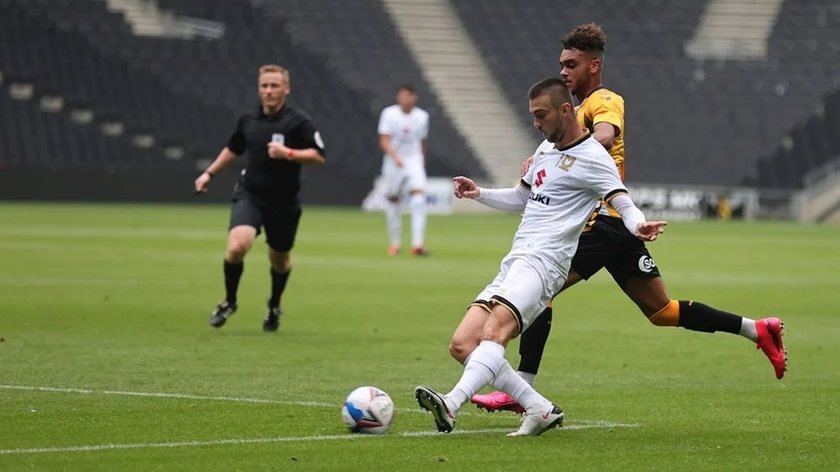 Image Credit: Milton Keynes Dons Football Club
Daniel Harvie had a big adjustment after joining Milton Keynes Dons last summer, and the pre-season restrictions contributed to that in a big way.
The now-23-year-old joined the Dons after an impressive couple of seasons playing for Ayr United in the Scottish Championship, where he was named the club's Young Player of the Year.
Harvie made a big impact during his first year with the Dons, making 37 total appearances while scoring three goals and providing a further four assists. But the move away from Scotland presented him with plenty of challenges.
Along with an adjustment in the style of play, the level of League One football, and the various new positions he was asked to play throughout his debut season, the restrictions placed on clubs across the country during pre-season when he first arrived was an unusual experience for someone making such a big move south of the border.
Reflecting on last summer, Harvie said during this week's press conference: "It was really different to be honest. The first week or two we were split into groups of four, and training just us, so for a while we didn't really get to see most of the boys on the team, it was only a small few."
"It was weird for everyone, it was just waiting for the restrictions to ease but it went on longer than we thought."
This time around, however, the players are able to work together as they ordinarily would and Harvie certainly feels more positive about his second pre-season in Milton Keynes.
He commented: "This season, we're all together everyday and we're training together everyday, which is one of the benefits."
He added: "We've got a good bunch here, like the new boys coming in who have fitted in perfectly, as if they've been here a while, so it's just keeping that going and keep working hard for the first game."