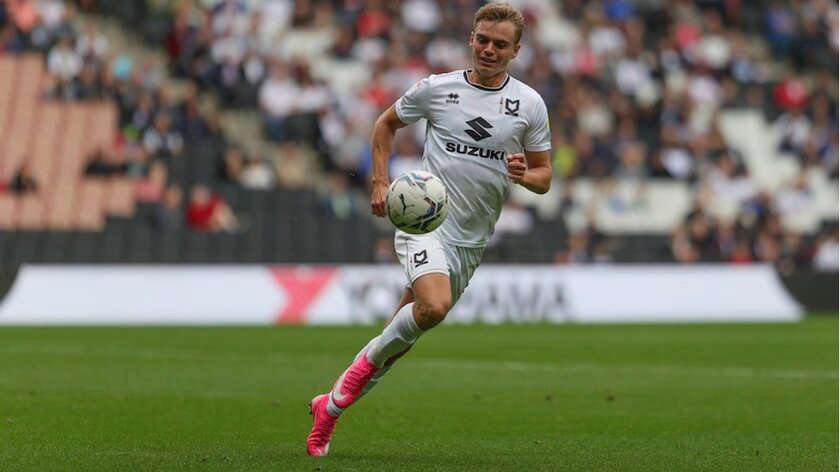 Image Credit: Milton Keynes Dons Football Club
Milton Keynes Dons have announced that Scott Twine has officially left the club to join Championship side Burnley.
Rumours around Twine's future at Stadium MK have been swirling for many weeks, with multiple clubs said to have been interested in his services.
Twine had a superb season in Milton Keynes, scoring 20 goals and providing 13 assists on route to the League One Player of the Year award, as well as multiple of the Dons' own awards after helping guide the team to third in the league last season.
Now, Twine takes his talents to Turf Moor on an undisclosed fee - with rumours ranging from £3m, £4m and even above with reported add-ons also included in the deal, though nothing official has been announced by either club.
Sporting Director Liam Sweeting commented: "When we signed Scott, we knew we had secured one of the most exciting players within the EFL - what followed was performance after performance of top quality, from a player who was all-in on our culture and thrived playing in a team-first environment that challenged him to be the best he could be."
"Those performances, along with winning Sky Bet League One Player of the Year, were always going to attract interest and we have again negotiated a deal that we feel is good for the Club in both the short and long term."
"We wish Scott all the best moving forwards and can be very proud in the part we played in his journey. By concluding this transfer now, we have clarity to best prepare the team ahead of the new season and remain focused on our target ahead."
Head Coach Liam Manning said: "I cannot speak highly enough of Twiney, first of all as a person and then as a player who has developed tremendously over the past 12 months."
"Credit to the coaching staff here for the development we saw over the course of last season but also Twiney for his dedication and commitment in training, on the pitch on Saturdays and also behind-the-scenes when nobody was watching."
"We wish him nothing but success moving forwards and I'm sure we all be keeping an eager eye on his future career."
He concluded: "Scott's journey is another example of our model working effectively and his departure now opens a door for others to step in, contribute and have an impact."