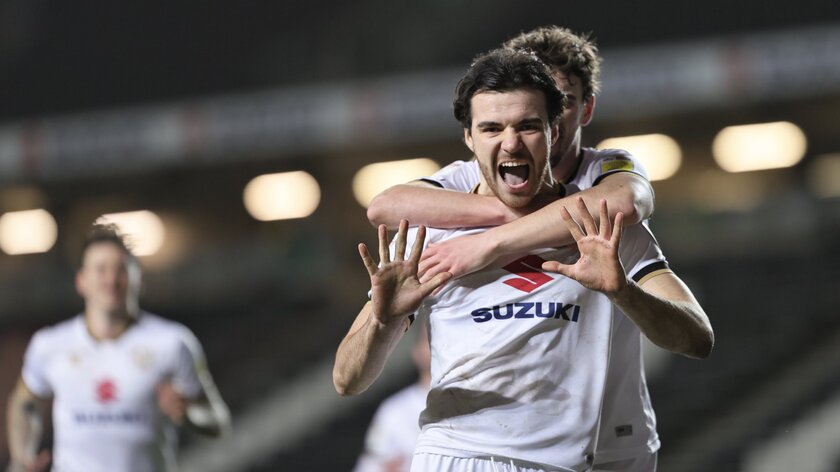 Image Credit: Milton Keynes Dons Football Club
Scott Fraser has reflected on his first season with Milton Keynes Dons after being named Players' Player of the Year on Friday.
The Scottish midfielder has played an instrumental role in Russell Martin's first full season in charge, scoring 14 league goals and adding eight assists in all competitions - helping the team to tenth place in League One ahead of the final match of the season against relegated Rochdale.
His efforts were rewarded by his peers, who named him the club's Players' Player of the Year. After winning, Fraser reflected on his first season at Stadium MK in an exclusive interview with MKFM.
On winning the Players' Player of the Year award, and how he will be celebrating, Fraser commented: "I'm over the moon with it. If you ask any player, to be voted for by your teammates as the best player, it means a lot."
"With any line of work, if your colleagues are voting you as the best it's really important, so I'm very thankful for it."
"We had to do two names; I voted for Skip [Dean Lewington] and Cammy Jerome."
About celebrating the season, he added: "I'm going home on Monday, so I'm looking forward to that. We'll get the game out of the way tomorrow, maybe even get a few beers in the changing room afterwards, but we'll wait and see."
Fraser joined the Dons as a free agent in September last season, having previously played for Burton Albion and Dundee United in his home nation, and he has been left with a positive impression the team he has played alongside all year.
He explained: "It's been great, ever since I've come in everybody's made me feel welcome; all the staff behind the scenes, all the boys in the changing room made it really easy for me and I've had a good reception and even a good relationship now with the fans."
"It was probably better than what I expected, if I'm honest, I knew we were going to try and play football the right way but even at times in the early part I was a bit taken aback by just how good we were."
He continued: "I spoke about it after the Portsmouth game, one of the best team performances I've been involved in in terms of dominating a game, really enjoyable."
"I think I've improved a lot as an individual, both on and off the field, since I've come down here so I'm grateful."
The season itself has seen Fraser score the highest number of single-season goals in his entire career, outscoring his previous best in 2019/20 by five with a match to spare - and a chance to still win the club's Top Goal Scorer of the Year award.
When asked where this season ranked so far in his career, Fraser said: "It's up there, last season I sort of had the reverse with nine goals and fourteen assists, so to obviously get the fourteen goals and eight assists, I'll try and get a couple more goals and assists tomorrow."
The Dons have taken great strides in 2020/21, climbing from last season's 19th place to potentially finishing within the Top Ten of the league, but Fraser is still expecting improvements to be made next season.
He concluded: "I think we need to improve on this season. We'll try to finish this season as well as we can, we've had a really good run the second half of the season, and we'll be looking to better that next years."