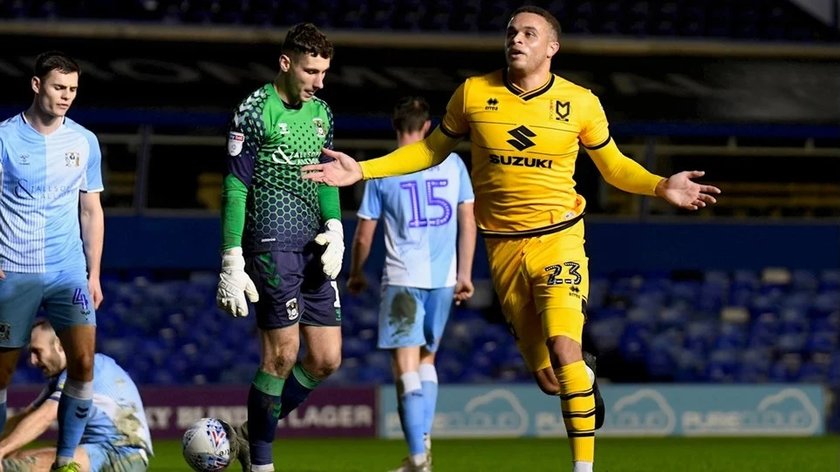 Image Credit: Milton Keynes Dons Football Club
Carlton Morris had a positive impact during his brief loan spell at Milton Keynes Dons and manager Russell Martin hopes he can return next season.
The 24-year-old forward joined the Dons during the January transfer window as a loan signing from Norwich City, a club that Martin has an excellent relationship with due to his playing days.
He was only able to make ten league appearances for the Dons, scoring twice in the process, but he certainly impressed the fanbase thanks to his partnership with top striker Rhys Healey.
With Morris returning to his parent club, there is still a hope that he will pull on an MK Dons shirt once again during the 2020/21 season, potentially on loan.
When asked about Morris, Martin commented: "He made a really big impact on and off the pitch. I think he's a fantastic character, he's a top striker in League One."
He continued: "He knows what he needs to improve on, I think he realises that we know him and understand him really well, as a group of staff, and we can maximise what he has and really improve him and, if I'm being honest, Carlton would like to come back."
There are many different factors that go into a football transfer or loan move and Martin admits that the Dons will have to put in the work to try and bring him back, with Norwich ultimately having the final say on whether or not he will be allowed to leave.
Martin explained: "It's up to us to try and work out a deal to do that. I'm not saying he's definitely going to come back as there's a lot of things that come into that."
"Norwich, who are obviously his parent club, will ultimately decide what his future is. If they end up getting relegated, it might be that they want him there next season so we have to be patient with that one."
He added: "I think we all share the same feeling on it, that we'd like to see him back in an MK Dons shirt next season and I know that if he is surplus to requirements at Norwich next season then I think his priority and his first choice would be us."
"He's really enjoyed it, the fans have really taken to him and he's really felt that and he's felt really loved at the club, so that's gone a long way."
He concluded: "Hopefully we'll see him again next season but we'll have to wait and see."