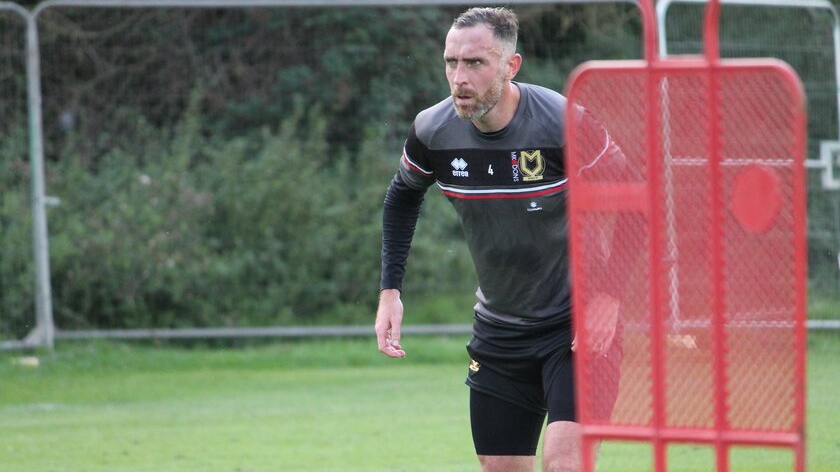 Image Credit: Milton Keynes Dons Football Club
Milton Keynes Dons boss Russell Martin has provided an update on the injured players at the club.
During this morning's pre-match press conference ahead of the opening game of the season against Coventry City, Martin provided an update on the players that he currently doesn't have available to play due to injuries.
George Williams spoke to MKFM earlier in the week, explaining how he was getting closer to returning to training and Martin provided a bit more insight into his particular situation.
He explained: "We're just going to have to take our time with George a little bit because of the nature of the injury and it came back."
"We got him to a point where he was running and then he felt it again, so a really strange one for George, it doesn't happen very often."
He added: "He came back in incredible condition so really disappointed that that's happened but he won't be too far off now, hopefully another week or two until he's back and in with a chance to be in the squad again."
Louis Thompson is another player that suffered an injury during pre-season, having to come off early in the friendly match against Premier League club Arsenal for a knock.
While the injury looked bad at the time, Martin is optimistic that Thompson will be back with the club far sooner than initially anticipated.
He commented: "For Louis, it's quite positive news because it looked like quite a bad one, but I think it was more of a nerve thing where he felt so much pain during the game, I think he took a whack there."
"He's got a slight ankle ligament strain, he seems to be healing really quickly in terms of the swelling so we're hoping he'll be back in the next three or four weeks."
He added:"That was a good bit of news for us because we all feared the worst that he might be out quite a while but it's settled down really quickly and Simon and the gang are really confident they can get him returning within three to four weeks and returning to play, not just returning to training."
One new addition to the injury list is young centre-back Warren O'Hora, who has been away on international duty with the Republic of Ireland Under-21s squad this week.
Martin explained: "Unfortunately Warren O'Hora got concussed training for Ireland, which is really frustrating for him and for us, so he won't be in contention for tomorrow, which is disappointed and frustrating, we'll have to jiggle things around a little bit."
The biggest name currently sidelined for the Dons is summer signing Richard Keogh, who is expected to become a key piece to Martin's puzzle at the heart of defence, once he returns from his long-term injury that ultimately saw him released by Derby County last season.
Martin said: "Richard Keogh is looking really strong, really good, he has his last set of testing next week, which will hopefully give him the green light to return to training with us."
"He's dipping in and out of warm-ups now, which is great, he looks really strong, he looks physically in good condition and he's flying through all his running."
"We have to hold him back a little bit, he's getting quite excited to be back involved. He's really enthusiastic, really keen to get back and we're feeling likewise."
He concluded: "He's been out a long time, we just have to make sure we time it right and don't rush him too much, but he's not far away."