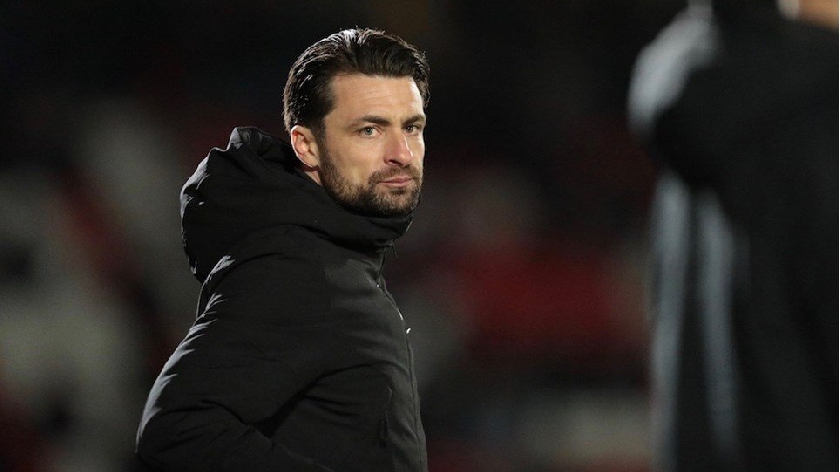 Image Credit: Milton Keynes Dons Football Club
Milton Keynes Dons boss Russell Martin has said that the team would have been happy to continue playing had League One clubs voted to continue the regular season.
Speaking on MKFM's Fans Forum earlier today, Saturday 20th June, Martin stated that he would have been fully prepared for a return to play had clubs in the league voted in favour of continuing the season.
Ultimately, a 19-4 vote meant that the regular season was curtailed, deciding the fates of a number of clubs while others still have a playoff series to contend.
Speaking of his own views as well as his players', Martin commented: "I think first and foremost everyone would've liked to have continued to play, the players definitely would have and I would've loved to have carried on playing as I really felt we were building something."
"My honest answer would be I don't think we would've gotten relegated, so I'm hoping that wouldn't have even been thought about."
"I really felt that we were improving and getting somewhere. Obviously we won't get a chance to prove that now."
"I guess the answer to that question is we would've all been more than happy to have continued playing and as the chairman said, everyone wanted to play football."
"The fact that we didn't have a strong stance on it and we were happy to do that, I thought was a good statement from the chairman.
"Obviously, in the end, we sided with the majority and they decided for a lot of reasons that they didn't want to continue playing so you have to respect that."
Not all clubs were happy with the final result of the season coming to a close, with Tranmere Rovers still within reach of avoiding relegation at the time the season was paused.
Martin expressed his sympathies with the club and admitted how difficult the decision must have been.
He explained: "I know there are a few clubs that have missed out and the one club that really suffered in Tranmere you have to have sympathy with them, of course, you do, it's a really tough decision."
"I heard an interview with their manager this week who was really honest and open about it and he said they would have done the same, they would have voted to stop it if they were in a different position."
"But it is a really tough way to be relegated and for a season to be decided, but obviously it was unprecedented, we've never come across it before and hopefully we don't again, but the decision was taken out of our hands and we accept it."
He concluded: "We're still in League One next season which is the most important thing."