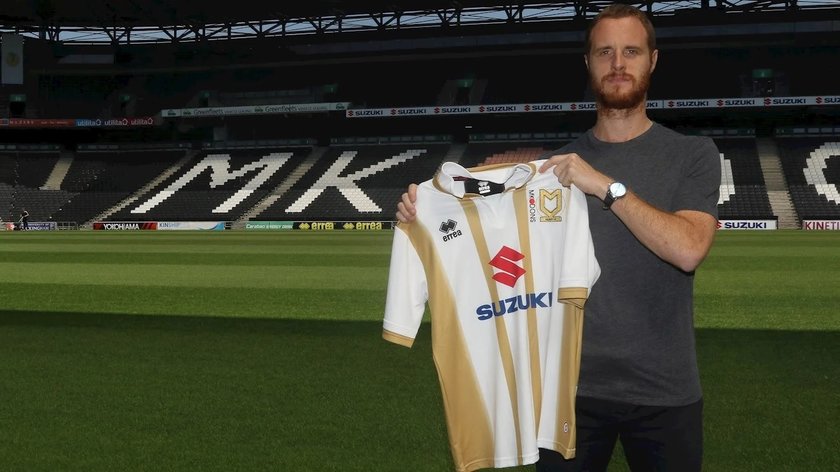 Ryan Harley when he was unveiled as an MK Dons player | Image Credit: Milton Keynes Dons Football Club
Talking on MKFM's Fans Forum, Milton Keynes Dons manager Russell Martin admitted that he would like to bring Ryan Harley back in some capacity, once the club's situation becomes clearer.
Harley originally joined the Dons as a player last season when then-manager Paul Tisdale was at the helm, with the 35-year-old transitioning into coaching during the season under Martin.
With over 340 professional matches under his belt, Harley is an experienced voice that Martin has appreciated having on the other side of the pitch as he embarked on his first season as a manager.
The ongoing Coronavirus pandemic has truly impacted the way clubs around the country will operate next season and Martin hopes that Harley can be brought back into the fold once things become clearer financially.
Speaking of his former teammate, Martin commented: "I hope to have Ryan working with us in some capacity. Again, if we didn't have to deal with the last three months it would be a really simple one and I'm sure he'd be with us right now."
"He appreciates we have to take our time a bit and be patient because he's been excellent for me and for Luke and the rest of the staff in terms of just bridging that gap between the players and the staff."
He added: "He's done a lot of one-to-one training and individual development with some of the young guys, Sam Nombe and Dave Kasumu, so he's been really good he's played a really important role for us."
"So, I'm hopeful we can get something sorted but it's not going to be any time in the immediate future. There's a lot of other stuff we need to sort out first and Ryan appreciates that and the chairman and Andy [Cullen] appreciate the help that Ryan gave us this year and are really grateful for it."
"I think we're all in the same boat, we're hopeful we might be able to sort something out down the line. But, until then, we've got a lot of other matters to sort out."
"I'm in constant contact with Ryan, he's still helping us out now with the recruitment stuff, which is great, he's got a lot of knowledge, especially at League One and Two levels of a lot of players, so we're utilising him as much as possible and hopefully at some point, he can become part of the team again."
He concluded: "If it's not in the immediate future, hopefully down the line."