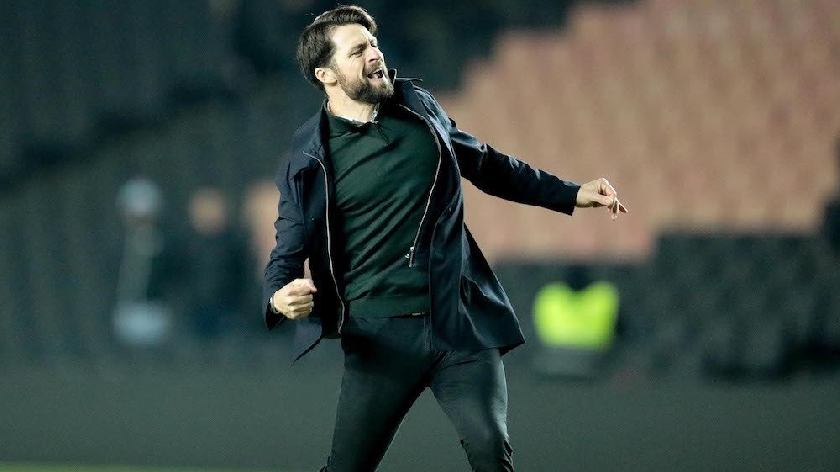 Image Credit: Milton Keynes Dons Football Club
Milton Keynes Dons boss Russell Martin has expressed his gratitude towards the club's fans after participating in another online fans forum this week.
With Milton Keynes entering Tier 4, fans are no longer able to attend matches at Stadium MK and being involved with their team is an important part of life as a football fan.
Martin participated in another club-run fans forum on Tuesday, fielding questions and discussing aspects of his career and work with the Dons, and he expressed delight that so many were involved and believes the club needs to continue to engage with them, especially after having their opportunity to watch the team live was taken away so soon after being permitted.
Speaking at this morning's press conference, Martin said: "It's huge and, I've said it a million times now, but they're the most important people at any football club because they'll be here a long time after any player, manager or anyone associated with the club."
"I've been really grateful for the amount of fans we've had on these calls, hopefully they have a bit more insight into what we're doing, and I've said I want them to be part of that process because I want them to understand so when they're watching their team they get it, it makes more sense to them."
"It's not totally normal the style of play that we've tried to implement for this level, it's not entirely normal and I think it can be quite difficult to understand but they've been brilliant."
He added: "Some of the questions have been great, some have been right out there, but I've enjoyed it. I've really enjoyed interacting with some people again and, while it's only over Zoom, it's nice to see some familiar faces from the stadium."
"It's hugely humbling to see how many of them are supporting what we're doing and really sticking with us and showing a lot of patience and understanding of what we're trying to do at the club."
"Ultimately it's to make the club better and whenever I leave, hopefully that's in a long time, we leave it in a better place with something that's sustainable, an identity and players that are a real asset to the club and that's the aim."
He continued: "I think it's really easy just to change from one week to the next and change a position and play percentages but this club's been there and it didn't like it and it doesn't last very long, even if it's successful for a short period of time."
"It's what I believe in, it's shown on numerous times this season that it can be really great. There's stuff we need to work on and tweak and it takes a lot of work to try and commit to this, which is why I have so much pride when I talk about our players because the way they take it on and the courage it takes to play that way."
"We have to continue to engage with the fans and make sure they are part of that process and give them something to really enjoy watching and give them a team that they know what they're going to get and give them an identity as football supporters."
He concluded: "It's really important and I'm really grateful that so many of them have taken time to listen to me waffle on about it."