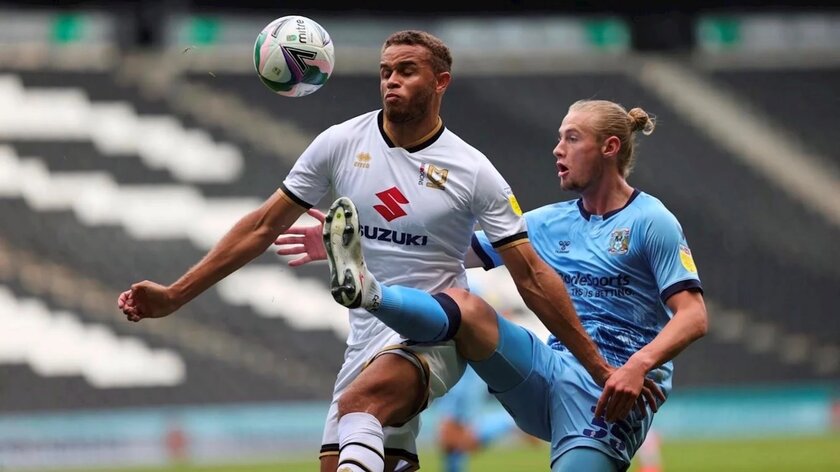 Image Credit: Milton Keynes Dons Football Club
Milton Keynes Dons manager Russell Martin has expressed his disappointment at the team's 1-0 loss to Coventry City in the Carabao Cup after a positive performance throughout.
The Dons were arguably the best team throughout the match, with plenty of chances and even a penalty to give them the victory, but ultimately a solitary late goal saw their Championship opponents progress into the second round.
Speaking in his post-match press conference, Martin felt his side were the better team and is disappointed that they didn't take their chances and put the game to bed.
He commented: "My overriding feeling of the game is I'm really disappointed we didn't win it."
"I thought we were in control of the game, even when it was 11 v 11 we completely controlled the game."
"We created some really good chances, we started the game really well and then obviously we got the penalty, which was a big moment in the game and we miss it."
He continued: "Even after that we regained composure and against ten men it's not always easy."
"We created lots of chances, we should've scored a couple of goals and we didn't."
"I said at half time that the only way they were going to score was on the counter attack or from a set piece."
"We stopped the counter attack no problem, they were great at it, and if you switch on at set pieces that's it. Don't give silly free kicks away, and if we do you've got to deal with it."
He added: "These are the big moments in football that top players deal with and unfortunately we didn't deal with it."
"So I'm angry at that, I'm disappointed at that because their performance deserved a lot more and I don't want to see that again, it's as simple as that."
"They don't want to see that, I don't want to feel that way where we play so well but we end up losing 1-0."
"So big moments define games and we didn't do well enough."
He concluded: "We had more than enough chances to win a game of football, we had more than enough big moments in front of the goalkeeper and we didn't take them and they did."