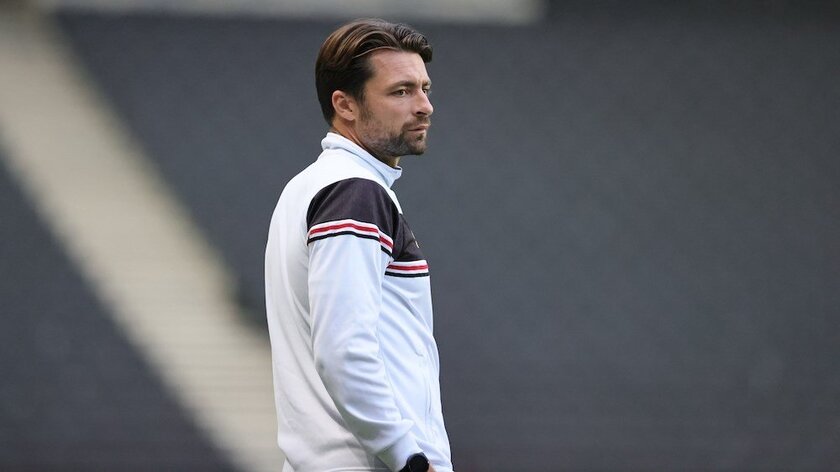 Image Credit: Milton Keynes Dons Football Club
October is set to be a busy month for Milton Keynes Dons, with a number of big matches coming thick and fast as well as the closure of the summer transfer window.
Due to the late start to the 2020/21 League One season, some months will see teams play more matches than usual, with October seeing MK Dons take on eight different teams between today's home fixture against high-flying Ipswich Town and the Halloween clash against bitter rivals AFC Wimbledon.
The Dons kick off the month of October still searching for their first win of the season, with just one draw against Doncaster on the opening day of the league campaign seeing his side sit 22nd - above Bristol Rovers and Rochdale on goal difference.
Dons boss Russell Martin, speaking on MKFM's Breakfast Show yesterday morning acknowledged that October would be a big month for his team and he expects his players to embrace the situation.
Martin explained: "As a group we have two ways to go about it; we can really embrace it or worry about it and have some trepidation."
"I've asked the guys to embrace the opportunity. It's a really big month, not much training, a lot of maintenance and recovery in between games because it's so hectic."
He added: "We knew this season would be like that but I'm really looking forward to it, some great games in there to play."
October is also when the transfer window officially closes for clubs in the English Football League, with the Dons still searching for a striker to replace the recently departed Rhys Healey.
With the latest government restrictions on fans returning to football stadiums, the financial landscape has once again changed for football clubs in the lower leagues and Martin himself acknowledged this while still expressing hope to add at least one more player to his squad.
He commented: "It's changed the landscape financially and economically for us as a club, as it has for every football club, but we're still looking and we're still hoping to add one for sure."
He added: "We might end up losing one or two as well, so we'll have to wait and see."
"That's forever changing now, with the financial situation that's going on, and we'll have to wait and see what happens with the virus in the next week or two before the transfer window closes."
He concluded: "So, just being honest, it has changed but we're still hoping to have one at least."