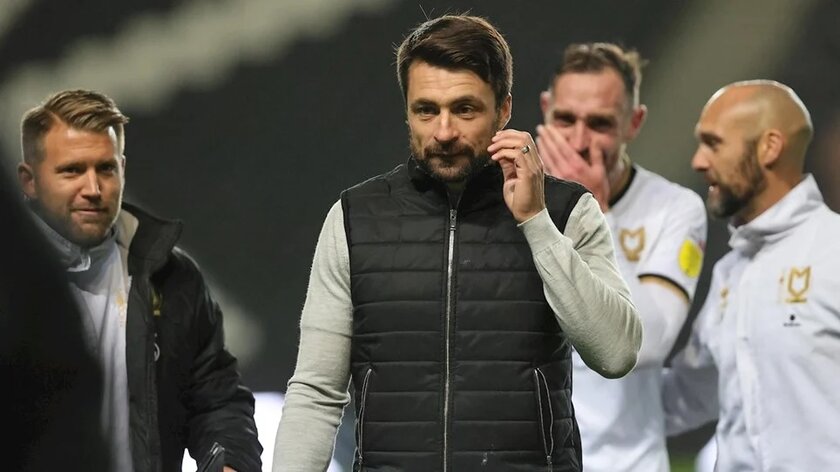 Image Credit: Milton Keynes Dons Football Club
Milton Keynes Dons boss Russell Martin spoke of how goalkeeper Andrew Fisher will be thanking his teammates after securing an easy clean sheet against Wigan Athletic last night.
In Fisher's first home start for the Dons, Wigan were limited to six total shots with none of them on target as Martin's men dominated in a 2-0 victory Tuesday (27th October) night.
The former Blackburn Rovers youth product originally joined the Dons on loan last January, failing to make an appearance before the ongoing Coronavirus pandemic shut down the season, which was ultimately curtailed.
Now, in just his second match for the team, Fisher has a clean sheet to his name and could have had one against Blackpool a few days earlier.
Fisher, who completed 96.15% of his passes during the match, had very little else to do other than claiming a few corners throughout the match and Martin has spoken of the quality he believes Fisher has, as well as how the goalkeeper's night was made easier thanks to the efforts of his defence.
Speaking in the post-match press conference, Martin commented: "I think he'll give a lot of praise to the people in front of him, I think we limited the team to, finally, no shots instead of one or two on target."
"It's just a huge testament to every single player along the back three and Fish, I think they work so hard as a group."
"For the last ten minutes they were a bit stuttery, a bit more pressure on us than we would've liked but they stood up to it."
He added: "Fish just brings so much, he's really convincing in his behaviour and his attitude towards the game."
"He's really relaxed in possession and really athletic out of it and I think he's been great for the two games he's come into."
"There's a reason we signed him, there's a reason we pursued him for so long and stuck with it and we finally got him, which is brilliant."
He concluded: "We've got three goalies now that are really good, that we believe in, and it's a real battle but Fish has started off his MK Dons career in really good fashion and he has to continue that."