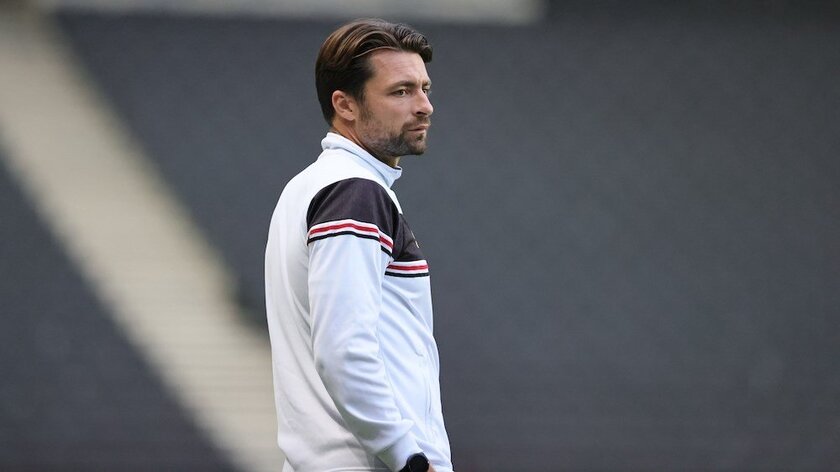 Image Credit: Milton Keynes Dons Football Club
Milton Keynes Dons boss Russell Martin has addressed the decision to substitute Scott Fraser after just half an hour in the team's 1-0 victory over Doncaster Rovers.
The Scottish midfielder has been a key part of Martin's team this season, scoring 11 goals and assisting a further four in 35 league matches, but found himself substituted after just a third of the match against Doncaster had been played.
Injuries, or tactics, were initial considerations for why Fraser had been pulled after such a short period of time in the match, and Martin himself addressed the decision quite openly in the post-match press conference.
When asked if the decision had been a tactical one, Martin explained: "No it wasn't. Scotty's been one of our best players, there's no doubt about it. We love him, he's been incredible, but there are certain guidelines to adhere to in terms of performance and behaviour."
"When they go a bit skewed, it becomes an issue for me and I don't think he was able to carry on and perform how we wanted him to, so he came off."
He added: "It won't be a big problem, we love him. He has a chance to react now, positively, and be part of the group and the rest of the team."
"I thought Louis Thompson, when he came on, was fantastic, so it's not a big deal. [Fraser] came off, it's happened a few times this season."
He concluded: "He's a young guy who's learning, I'm an older guy but fairly new in this job, who's still learning. It doesn't affect anything between us and my opinion of Scotty, but today I felt it was the right decision."