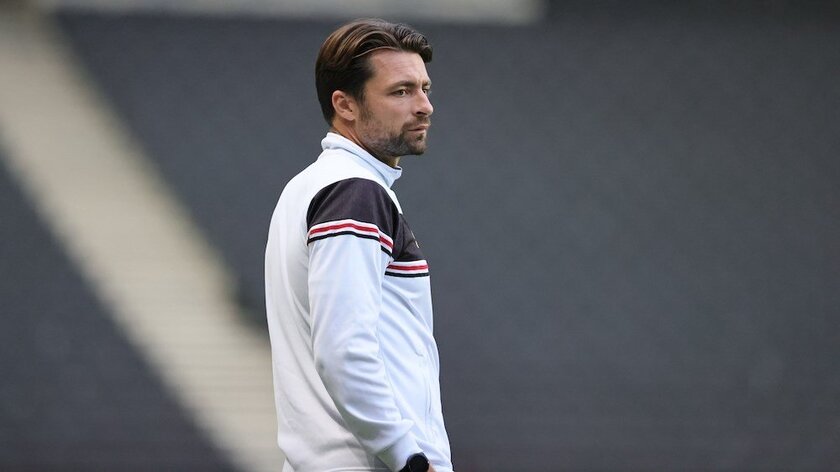 Image Credit: Milton Keynes Dons Football Club
Milton Keynes Dons boss Russell Martin wasn't pleased with the team's overall performance against Shrewsbury Town, but believes the point they earned is a positive to take away from the game.
The Dons had an extremely disappointing start to the game, going a goal down after just over 30 seconds, with the visitors extending their lead just a few minutes into the second half.
They battled back, however, with Carlton Morris and Cameron Jerome leading the line with their goals and Martin spoke after the game about his team's approach to the final portion of the match being the deciding factor that led to the 2-2 draw.
He explained: "I think it was our energy and intensity that allowed us to attack that long."
"I think they were obviously frustrated at giving away the lead and goals change games."
"The first one changed the game completely, we get two goals and get back into it and they're physically and mentally completely drained."
He added: "It's what it does, as we were in the first half after conceding the first goal."
Going a goal down often sees teams drop their heads or become reinvigorated, and the Dons experienced both emotions and responses during this game, with the Shropshire club's second seeing the home side switch up a gear and fight to get something out of the tie.
Martin commented: "I'm just so pleased we had a different reaction to the second goal we conceded, because otherwise I'd be sitting here really unhappy tonight."
"I'm still unhappy, but the positive is we have a point and we didn't get beaten."
He concluded: "I think they had maybe accepted at that point we just kept coming and at the end they were hanging on, whereas it was the other way round for a lot of the first half."