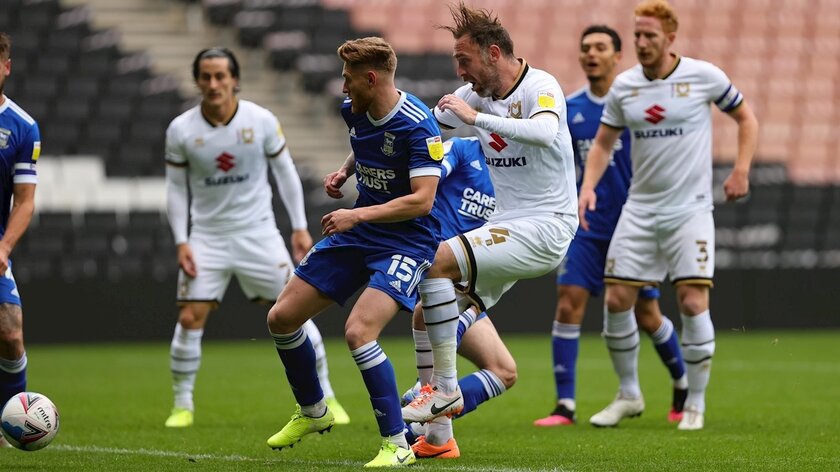 Image Credit: Milton Keynes Dons Football Club
Milton Keynes Dons centre-back Richard Keogh spoke about the natural chemistry he had with his teammates after his first full 90 minutes for the club last Saturday.
The Republic of Ireland international returned from injury in recent weeks and featured in all 90 minutes in the Dons' 1-1 draw against then-league leaders Ipswich Town last Saturday, with Keogh forming a strong partnership alongside Dean Lewington and George Williams in the team's back three.
Williams, who had also been out for the majority of pre-season, also featured in his first competitive match of the season for Russell Martin's side, but the trio looked to have great chemistry and limited Ipswich, a team that hadn't dropped a single point or conceded a goal in their opening three matches, to just three total shots.
The quick chemistry formed between the three experienced defenders, who combine for almost 1700 professional appearances, helped the Dons to play the free-flowing attacking style that Martin wants them to operate in, with the Milton Keynes club deserving of more than just a point last time out in the league.
Speaking at this morning's press conference, Keogh spoke about the early chemistry he had with Lewington and Williams and spoke about how it can continue to improve and help the team moving forward.
He explained: "I think when we actually look back, apart from obviously the goal we should've done better with as a team, when you limit a team that have won all their games and not conceded a goal to very minimal shots on target I think it speaks for itself a little bit."
"I just think that naturally we had that chemistry and, as I was saying, we're probably a bit more experienced so we understand our roles in the team and I think that's important."
He added: "I think the more we can play together, the more that we'll improve and we'll understand each other a little bit more but I suppose if you watch the game on its own, you'd probably think that we've been playing together for years and years."
"That's obviously positive moving forward and like I've said, they're really good players and really good guys and I think it's good that you have that chemistry throughout the squad."
"Now we've kind of set the tone for the team in the way that we play and we think that's important moving forward."
He concluded: "If we can get our bit right, on and off the ball, it sets a good foundation for the team and they can go and score the goals and hopefully we can keep them out of the net and keep feeding them."