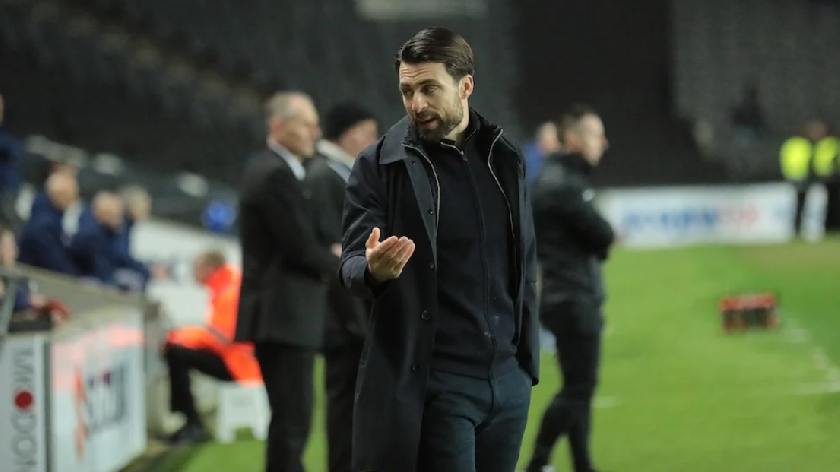 Image Credit: Milton Keynes Dons Football Club
Milton Keynes Dons returned to pre-season training last week and there have been plenty of positives seen by manager Russell Martin.
Speaking during a (virtual) press conference this morning, Martin spoke about returning to training under the new COVID-19 protocols and how well his players have responded to the unique situation.
He commented: "Last week was a long week. We were having to do three sessions a day because of the protocols and they can only train in small groups, so it was a bit of extra planning on the logistics front, but it was a good week."
"They got some really good work in and everyone has come through it well. Not surprised but really pleased with how they've come back physically and mentally."
He added: "There seems to have been a shift in focus and mentality, even this early on you can feel it, you get a sense of it and everyone's just pleased to be back."
"Their attitude to working really hard last week has been brilliant and it sets us up really well now for moving into the stage two protocol, which means they can actually compete against each other in training."
"We can get some real football stuff in terms of; they can compete, possessions and some tactical work this early on as well so it's been a good start, a good reintroduction back."
Martin has worked closely with Simon Crampton, the team's Head of Sports Medicine, to ensure protocols are followed to keep players and staff safe throughout their return as well as the months leading up to it.
Speaking of how the coaching has been under the new protocols, which Crampton himself has helped organised due to its heavy fitness focus, Martin explained: "I'm sure it's difficult for him but he's been unbelievable throughout the whole process, making sure that as a club we are doing everything we possibly can to protect the players and the staff involved."
"He's worked tirelessly over the last four months, making sure we are fine and making sure that we're ready, helping us in terms of what we need to prepare and how we need to prepare it, so he's been great."
"To be honest, after the amount of time we've had off we would have done something similar anyway in terms of reintroducing the movement back to football movements and getting used to just feeling the ball again because some of them for four months haven't even kicked a ball."
"I'm really pleased with last week and have a huge amount of gratitude and debt to Simon and Andy Cullen for the way they have worked on it to make sure we are fine and ready to go."
With months off from football, it would be reasonable to expect players to show plenty of rust, with no real opportunities to train in the traditional sense.
But Martin has been truly impressed with how his players conducted themselves during the 'off-season' and in the condition they have returned to practice in, commenting: "Yeah it's incredible, it's not easy when you're off for that amount of time and no gyms open."
"They've stuck to their programmes. It's really difficult for the players when the goalposts kept changing."
He added: "I'm proud of the lads and really grateful that they've managed to stay in such good shape because it means we can hit the ground running really early and we're not having to play catch up."
"They've all come back in really good condition, especially considering the time off and some of them have changed a lot, physically, for the better."