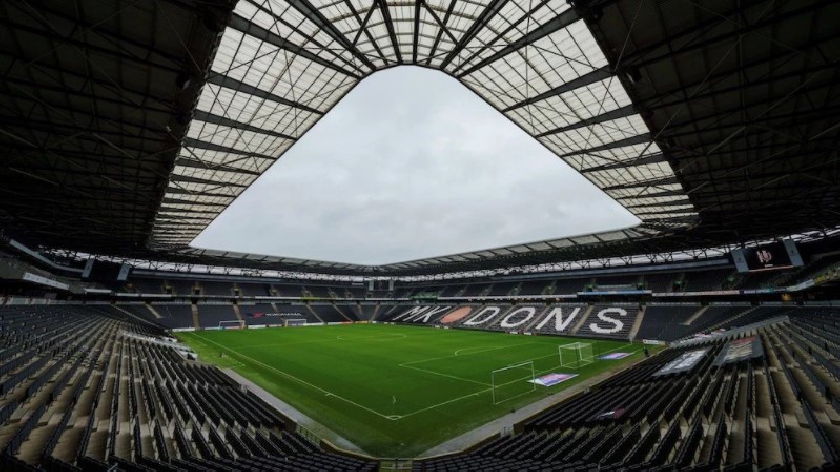 Image Credit: Milton Keynes Dons Football Club
Milton Keynes Dons chairman Pete Winkelman has confirmed that the pitch at Stadium MK will be relayed at the end of every season.
The pitch has been a hot topic throughout the season, with a wet winter and congested schedule creating difficult conditions for Russell Martin's team to play on effectively.
Speaking exclusively to MKFM, Mr Winkelman has apologised to his manager and to everyone involved with the club for the state the pitch has gotten into, while also providing an explanation for why it happened.
He explained: "I'm going to throw my hands up on the pitch, we had hardly played on it for months before the summer, there were no concerts."
"Every year, because it's a Desso pitch, we usually scrape all the grass off and re-seed and re-plant the grass for the next season."
He continued: "We thought, look how good it looks, we won't bother doing that this year because we haven't played on it for ages and it'll be a really solid surface going in and it's easily going to last a year."
"Alongside a lot of other football clubs, who also took that decision, we go and have the wettest winter in ten years and we end up with a pitch that is unrecognisable as a Stadium MK pitch."
He added: "So I apologise, first of all to Russ but secondly to everybody else. We let the pitch get into that state, but we're not alone."
Martin will undoubtedly be delighted to hear that the pitch will be completely renewed during the off-season, ensuring that the same conditions do not arise when the 2021/22 campaign rolls around.
Mr Winkelman commented: "We, of course, will be renovating it at the end of the season, so I expect it to be back to its top quality for next season."
"I think with hindsight, and the knowledge that we have now, I think we have to redo the pitch every year, whether we've used it or not."