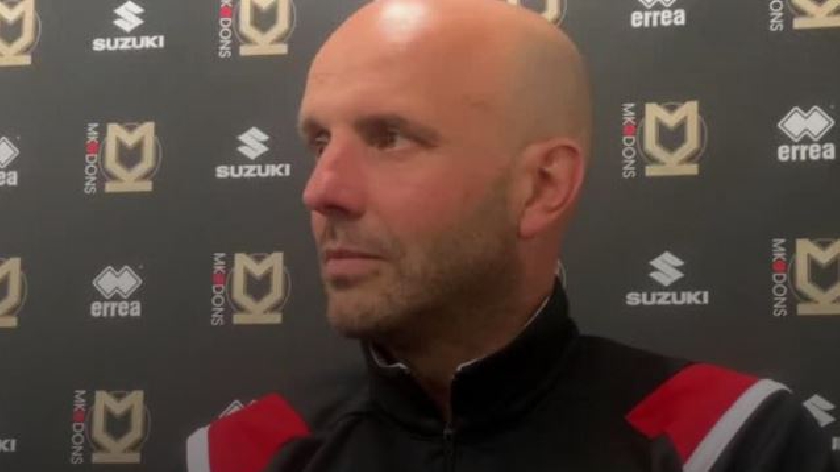 Dons boss looks ahead to Carabao Cup clash at Stadium MK.
MK Dons welcome the UEFA Champions League winners to Stadium MK on Wednesday for a Round Three tie which is due to be played in round of a crowd of over 29,000.
Tisdale's men, of course, are huge underdogs against the unbeaten Reds but that isn't stopping the Dons boss from looking forward to the encounter – and dreaming of an upset.
"I'm very relaxed," Tisdale said in his pre-match press conference at Stadium MK.
"It's an occasion and an opportunity to play in front of 29,000 fans, in your stadium against the European champions – let's just enjoy it. I feel excited.
"This is not win at all costs. It would be marvellous if we did, but we're not planning or expecting it to happen. We'd like it to, and who knows, but let's just go and give it our best shot. We've got nothing to lose."
Tisdale usually spends the build-up to a fixture analysing the opposition, working out their strengths and weaknesses and game-planning to beat them.
So, how do the Dons go about competing with Jurgen Klopp's European champions, who have beaten everyone in their path this term?
"I don't think we can dig into our usual preparations, so it will come down to some simple preparation, discussions and details.
"As a manager, you tell them to have no regrets and not to be nervous or worried about making a mistake.
"We'll give them a few pointers. We need some clarity as to how to defend and attack, it will be very simple."
He added: "The biggest pressure for me is the team selection.
"It's personal because that's how I manage. I love all the boys because they're like my second family. I want them all to do really well but I have to pick a team.
"When you get a game like this, I can only pick 11. Some will be really disappointed. It's only one game, and I'm sure they'll be disappointed if they're not picked against Sunderland too, but this is the one they all want to play in. Of all the pressures I have, that's the biggest."