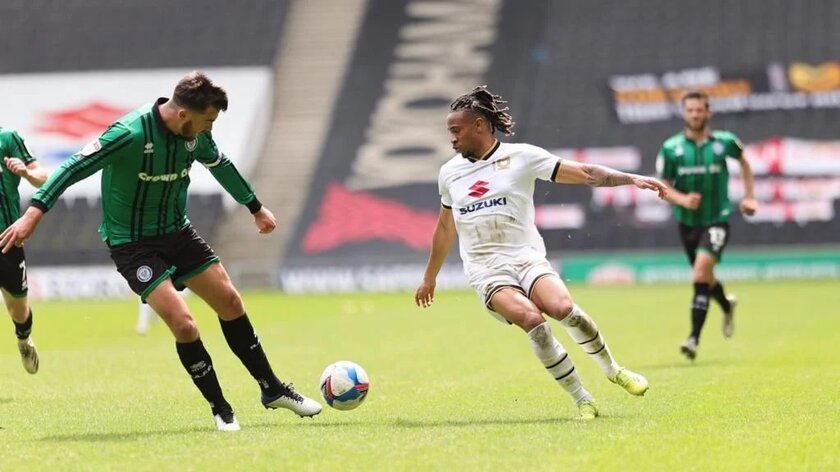 Image Credit: Milton Keynes Dons Football Club
Milton Keynes Dons suffered a shock 3-0 loss to relegated Rochdale AFC in their final match of the 2020/21 League One season.
The Dons entered the match seeking to claim a top-ten finish, while their visitors had nothing to play for after their relegation to League Two had been confirmed previously.
The Dons had the first real chance of the match just shy of the five minute mark, when David Kasumu was fouled on the edge of the Rochdale box.
Matthew Sorinola lofted the free kick perfectly over the wall and saw his effort bounce off the crossbar, coming agonisingly close to opening the scoring for the home side.
Rochdale themselves had a threatening effort, when Jake Beesley managed to round goalkeeper Andrew Fisher. His effort from a tight angle, however, hit the side netting and spared the Dons' blushes.
The Dale had another close chance after 25 minutes when Stephen Dooley forced Fisher into making a low save with a strike from just inside the penalty area.
Play settled during the first half, with neither side truly looking likely to break the deadlock, with both sides entering the break tied at 0-0.
Rochdale had the perfect start to the second half, taking a lead after just one minute of play.
Earning a free kick in a similar position to Sorinola's in the first half, Aaron Morley lofted the ball up into the near-side top corner, with Fisher unable to reach the ball as it flew into the back of the net.
The visitors threatened to extend their lead further moments later, with Connor Grant seeing his effort from inside the box roll narrowly wide of the post.
Rochdale got what they deserved a minute later with Keohane's deflected shot from the edge of the box sending Fisher the wrong way and putting the visitors up 2-0 just five minutes after the break.
The Dons appeared to be unravelling as Rochdale continued to pile on the pressure, with Keohane unlucky not to score from close-range.
After a long period of settled, fairly even play, the visitors confirmed their victory with Stephen Humphrys scoring from close-range.
The match was a disappointing way for the Dons to end what has been a season of growth, seeing them fall out of the top ten to finish the season in 13th place - a six place improvement on the 2019/20 season.
Attention for the Dons will now be on building a squad that can compete at the top end of the table in 2020/21, with plenty of players' futures to be decided definitely and plenty of new faces expected to arrive in the summer.
For now, it will be a time of introspection for Russell Martin and his staff, who will be eager to push forward next time around and put this final, disappointing loss behind them.
MK Dons Line-Up: Fisher, Laird (31' Thompson), Lewington, Darling, Jules, Sorinola, Kasumu, Surman (55' O'Riley (Ilunga 69')), McEachran (69' Bird), Fraser, Grigg