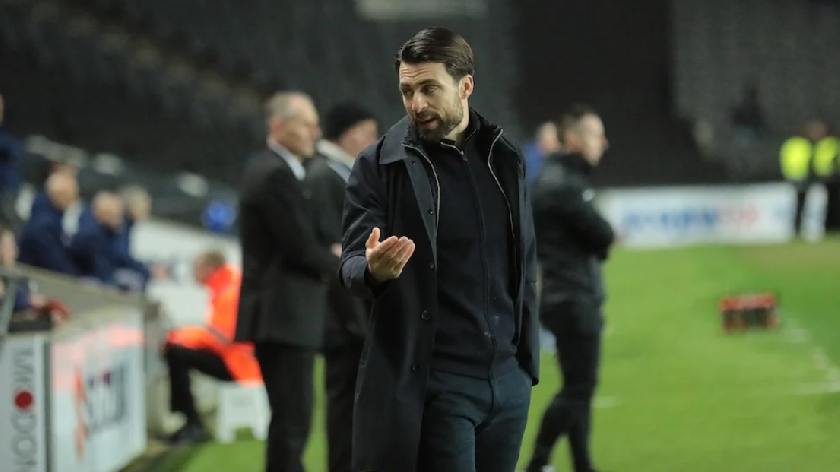 Russell Martin says MK Dons will look to utilise the loan market again next season, with budgets across the EFL likely to be affected by the Coronavirus outbreak.
Martin used the loan market to good effect in January, bringing in Carlton Morris and Louis Thompson from Premier League Norwich City as well as bolstering his goalkeeping unit with Blackburn Rovers' Andrew Fisher.
With transfer budgets across the EFL likely to be tighter in 2020/21 due to the affects of the Coronavirus pandemic, Martin believes a lot of clubs will look to use loan players to bolster their squads – and says MK Dons will be no different.
"It will be a really difficult situation for clubs and players to manage budgets next season," Martin told MK Citizen in a recent interview.
"We will have to look much closer at the loan market but all clubs will be in the same position.
"This season, Carlton and Louis were great for us off the pitch as well as on it. They were great for me in the dressing room, really great characters and it gave us such a great feeling to have players like that in there.
"Fish was great for us too, even though he didn't get a game. He gelled really well with the goalkeepers, as back-up to Lee and I think had Lee been injured, we'd have been in really safe hands with him in there."
Martin continued: "We'll waiting to see what happens over the next few weeks and months before the new season starts, to see who is available and in what capacity.
"We have been watching a lot of players as well as finding out information on them. Obviously in normal circumstances, we'd go and watch them play in person, but we've had to watch a lot of videos and make use of my contacts to find out about their personalities.
"It has been a really difficult period, and a lot of time spent at the computer but everyone is in the same boat."
Chairman Pete Winkelman addressed a similar topic in his recent interview with MKFM and was confident in MK Dons' ability to attract the best talent available in the loan market.
"I believe we will be in one of the best positions," Winkelman said. "I don't see us going out and signing players for money, but I do think we'll be in a great position to pick up free agents and, of course, loan players.
"Russ has loads of strong relationships as do we as a Club, and so I think we'll be in a relatively strong position.
"What that looks like and what the budget is, I don't know, but at least we've got a business where these things can happen when there are going to be businesses where the question will be whether anything can happen at all."