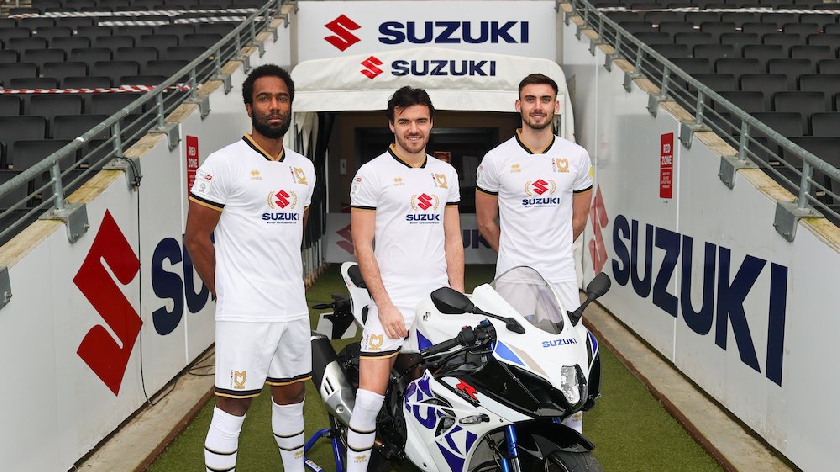 MK Dons will 'Don' a special-edition home shirt this weekend, to celebrate the achievement of Suzuki's 2020 MotoGP World Championship success.
Suzuki, the Club's Title Partners, won the 2020 MotoGP World Championship, with Joan Mir becoming the sixth rider to achieve the biggest prize in motorcycle racing with the Japanese manufacturer.
To recognise and commemorate the feat, Russell Martin's side will wear a special logo on their shirt for this Saturday's Sky Bet League One fixture with Oxford United.
Warren O'Hora, Scott Fraser and Cameron Jerome were the first to 'Don' the shirts at Stadium MK, alongside the Suzuki GSX-R1000R, on which the world title-winning bike is based.
MK Dons Chairman Pete Winkelman said: "We are delighted to be able to recognise and celebrate with Suzuki after their wonderful accomplishment. We are hugely proud to have Suzuki as our Title Partners and equally proud to be sharing their success in this special way."
There will be opportunities for MK Dons supporters and MotoGP enthusiasts to win some of the match-worn shirts in a special charity draw, with funds generated going to the MK Dons Sport and Education Trust as well as the Milton Keynes Hospital Charity. Full details to be confirmed.
Paul de Lusignan, Director at Suzuki GB, added: "We enjoy a great relationship with the MK Dons, and it's going to be very special to see our MotoGP world championships celebrated on the front of their shirts this weekend.
"In MotoGP Joan Mir lifted the rider's title while Team Suzuki was able to win the team championship, highlighting the performance of Mir, but also our GSX-RR. We hope the MK Dons can achieve success this weekend in the commemorative shirt and we have something to celebrate together."
MK Dons Commercial Manager Andy Wooldridge commented: "When speaking to the team at Suzuki, I can sense the immense pride that everyone at Suzuki has in this achievement.
"We are pleased that we are able to show our support of this and raise money for local causes at the same time.