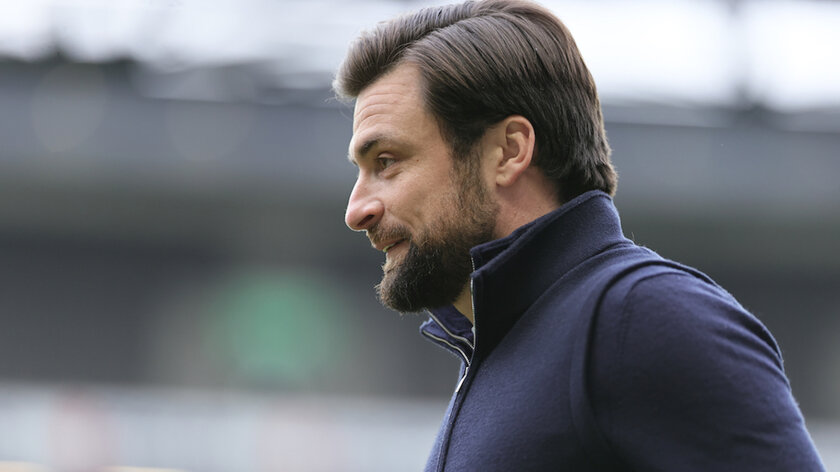 Image Credit: Milton Keynes Dons Football Club
Sometimes you learn more from defeats, and Milton Keynes Dons boss Russell Martin says he has learned a lot about his team after their pre-season loss to Tottenham Hotspur.
The Dons suffered a 3-1 defeat in front of almost 16,000 spectators at Stadium MK last night, but there were plenty of positives for the manager to take away from the match after a truly positive performance.
In his post-match press conference, Martin spoke about the many things he learned about his team.
He explained: "I learned that they are relentless in their pursuit for us to look how we want to be, with the identity of the team, their belief in it, their conviction in what they're doing."
"I love the way that their intensity is just, we should never take that for granted. From where we were eighteen months ago to where we are now, in terms of the way they train, the way they approach things and the way they connect with each other on the pitch."
He continued: "I also learned they're not going to go under. When you're playing against top opposition it would be so easy to have sunk back, let Spurs have all the ball, hit it long and cross our fingers a little bit and blame it on tiredness or the opposition. But they didn't do it."
"That's why you saw a few mistakes towards the end, because they didn't do that. They kept trying, kept trying to play the way we want to play. So I loved that about them."
"There's a lot of things I learned we need to improve on, as well, but that's every game. The process doesn't change. We learn from every team, win, lose or draw."
He concluded: "We'll try and be as consistent as possible with that, and then we'll analyse it and learn from it and go and practice what we need to practice and then hopefully we'll go and perform."