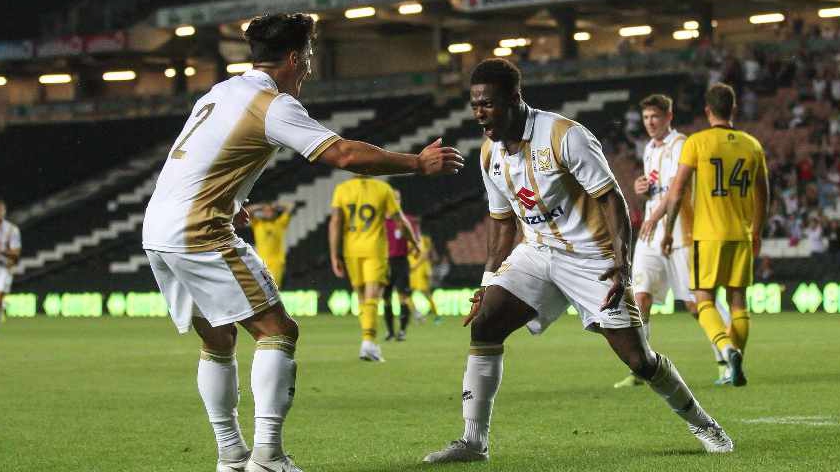 Image Credit: Milton Keynes Dons Football Club
​​​​​​​MK Dons have unveiled the numbers their first-team players will be wearing ahead of their season opener against Oldham Athletic this weekend.
Players such as Lee Nicholls, George Williams, Dean Lewington and Chuks Aneke have retained their numbers, but there have been a few changes from last season's squad.
Ousseynou Cisse has changed his number to wear 6 while Alex Gilbey, who wore 26 last season, will take over Cisse's vacated number 8.
Brandon Thomas-Asante has changed his shirt number from 31 to 23 while Sam Nombe has changed from 30 to 27 and Dylan Asonganyi has taken the number 37 after being assigned the number 43 last season.
With eight new players joining Paul Tisdale's side this summer, a number of vacated numbers were snapped up with most recent signing Mathieu Baudry taking the number 5 from the recently departed Scott Wootton.
Ryan Watson will wear the number 7 with Mitch Hancox assigned 12 and Jordan Moore-Taylor wearing the number 15, the same number he wore while at Exeter.
The full list of squad numbers was unveiled at the Dons' player presentation evening tonight (Tuesday 31st July), which was attended by fans, players, Tisdale and owner Pete Winkelman.
Tisdale, speaking at the event, commented on the pre-season and the upcoming campaign: "I'm pleased with pre-season but I know from experience that pre-season doesn't always marry up with the season."
"What matters is players are energised and motivated. I'm motivated and enthusiastic too. We look more of a team than we did 3 weeks ago, so plenty to build on."
MK Dons Squad List 2018/19
1 Lee Nicholls
2 George Williams
3 Dean Lewington
4 Joe Walsh
5 Mathieu Baudry
6 Ousseynou Cisse
7 Ryan Watson
8 Alex Gilbey
9 Osman Sow
10 Chuks Aneke
11 Peter Pawlett
12 Mitch Hancox
13 Wieger Sietsma
14 Kieran Agard
15 Jordan Moore-Taylor
16 Robbie Muirhead
18 Conor McGrandles
19 Robbie Simpson
20 Lawson D'Ath
21 Aidan Nesbitt
23 Brandon Thomas-Asante
24 Jordan Houghton
25 Callum Brittain
27 Sam Nombe
28 Oran Jackson
29 David Kasumu
30 Liam Sole
31 Finn Tapp
33 Ryan Harley
37 Dylan Asonganyi