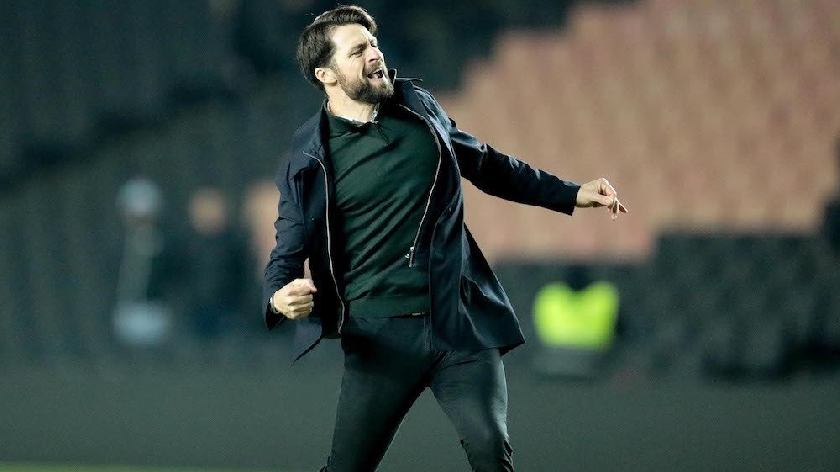 Image Credit: Milton Keynes Dons Football Club
Milton Keynes Dons manager Russell Martin spoke on the ongoing rumours linking him to the vacant Swansea City job.
After turning the team's fortunes around last season, seeing them climb to 13th in the table and only nine points outside of the playoff places, Martin is undoubtedly bound to be linked with a number of high-profile jobs.
The latest of which has been the vacant job at Championship club Swansea City, with many reports and rumours swirling around - ranging from talks have been held, interviews had, offers rejected and so on.
At this morning's press conference, ahead of the Dons' trip down to Bournemouth in the first round of the Carabao Cup, Martin himself was asked about the rumours and the situation that has surrounded him for the majority of this week.
When asked if he would be taking charge of the team's match with Bournemouth, Martin commented: "I'm sitting here in my MK tracksuit and I'm travelling to go and take training today, and I'll be at the game tomorrow. So, I guess that's pretty definitive."
"I'm looking forward to the game, really looking forward to it. We've had five, six weeks of real hard work together and it's all been getting ready for this one, so really looking forward to the game tomorrow."
Questions then turned quickly to focus on the Swansea links specifically, with Martin's own perspective asked.
The Dons boss said: "Nothing really changes for me, I've been in this situation already early on in my managerial career where you get talked about."
"I've become accustomed to being able to ignore the noise over the length of a long career, because there's always noise, and outside my office on the wall is a huge thing that says 'ignore the noise, trust the process, enjoy the journey', so that's something I live by."
"So, nothing's changed for us. We've worked like absolute dogs this week getting ready. We've worked so hard over the last, not five or six weeks but much longer, in assembling a squad we're all really happy with."
He continued: "We'll roll on, just keep going and making sure we are getting better and better all the time. If something official ever happened, I'm pretty sure you'd know that really quickly. As far as I'm concerned, we're here, we're doing a job and a job I really enjoy."
"After that, I don't know how long the journey will last with us, hopefully, as I've said all along, I plan to be here for a long time, but in football you never know."
He added: "But at this minute in time, I'm happy and with a group of people I really enjoy doing it with."
Reports have largely focused on reported interviews held with Swansea, and Martin having reportedly rejected the club's advances. But it appears as if no approach has been forthcoming.
When finally asked whether or not an approach had been made, Martin responded candidly: "I think the club would've told you. No one's told me there has been."