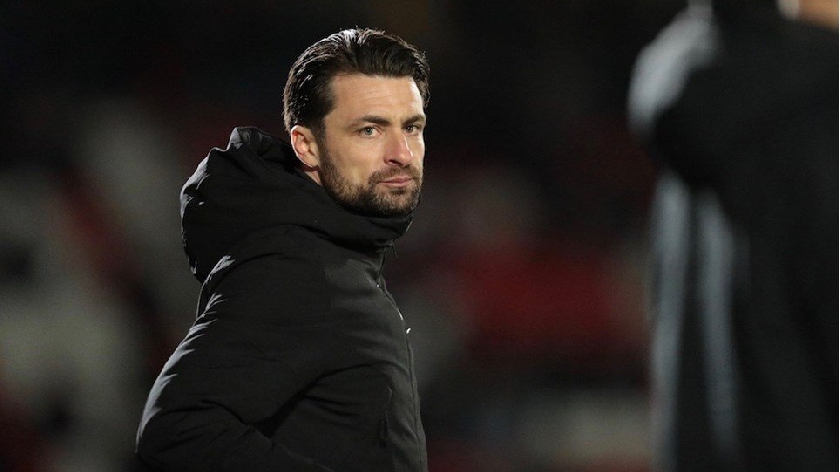 Image Credit: Milton Keynes Dons Football Club
Milton Keynes Dons boss Russell Martin has spoken after it was announced that the club had sold striker Rhys Healey last night.
Healey, who scored 12 goals last season and was hitting a run of form before the Coronavirus pandemic shut down the campaign, joined French Ligue 2 side Toulouse on an undisclosed fee.
Unsurprisingly, the reaction from fans has been negative and the Dons manager addressed the situation in an interview on the club's official website this morning.
Martin explained: "Toulouse expressed interest a few weeks ago, with a bid that was deemed nowhere near what we valued Rhys at and the interest intensified over the last few weeks."
"It wasn't the reason Rhys didn't play, he genuinely picked up a calf strain against Stevenage so he hasn't played or trained since then."
"Once the interest intensified, Rhys came to us and expressed his desire to leave and I'm sure he won't mind me saying it was life-changing for him and we have to respect that these players are human beings with families, their own issues and their own people to look after, which is the main reason he expressed a desire to leave."
"It was then up to Andy [Cullen] and the chairman to discuss and make sure the deal was right for us and negotiate with Toulouse and it got to that point where everyone agreed it was at the right level and Rhys went for his medical this week and past that and he's now a Toulouse player."
He continued: "Obviously I understand everyone's disappointment but once a player expresses a desire to leave it's really difficult to then persuade them otherwise."
"If the finances didn't get to a level where everyone agreed on, we'd still have been with Rhys and would've made it work and got his head around playing for us again but it wasn't to be, the finance hit a level where everyone agreed and we're not going to stand in people's way of a move they've set their heart on."
"I'd rather have a player that wants to be here. Once a player doesn't want to be here and expresses that desire it becomes difficult."
He added: "It wasn't a soft touch. It wasn't a he's said he wants to leave, he can go, it was making sure the move was right for everyone and it got to a level where the club felt that it was right and he moves on with our best wishes."
When the point of the fee received for Healey was brought up, Martin commented: "I think the most important thing about the fee is what we do with it, it's not about how much we got, as I said the club wouldn't have done the deal if they weren't happy with it."
"The deal's been done, it's now about how we utilise the money we've got left over and there's plans already in place with that."
"Hopefully, if we can do what we want with it, which has been agreed with Andy and the chairman, which is great, then hopefully fans will see new players come in that they can be equally as excited about as they were with Rhys, who was relatively unproven before he came here."
He continued: "It's done now and there's already plans in place to make sure we get players in, to strengthen us and improve us and that's what we need to continue doing."
"I feel like we have done that this summer, we've lost a lot of players but the ones that have come in have really strengthened what we're doing and the one's we've managed to keep are just as important as well."
"So now it's about making sure we add to them in quality and depth and character as well."