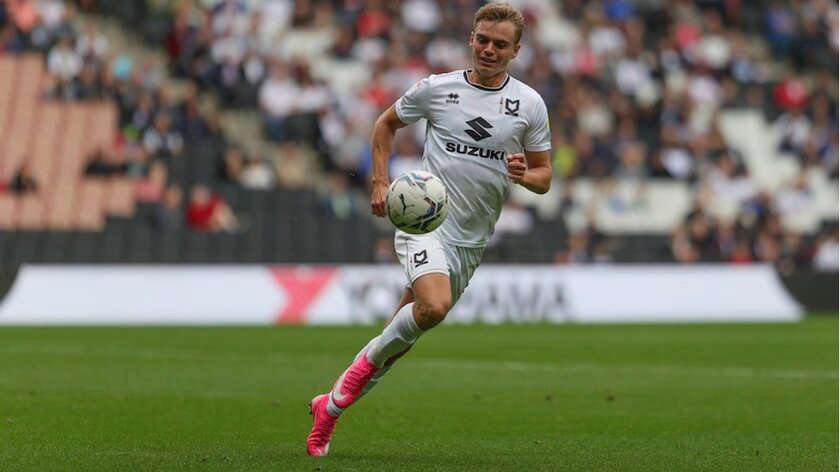 Image Credit: Milton Keynes Dons Football Club
According to reports, Milton Keynes Dons have received a bid for last season's Player of the Year Scott Twine from Championship side Hull City.
After the Dons were inches away from earning promotion to the Championship last season, finishing just one point behind second place Rotherham United, it was inevitable that interest in their players would arise this off-season.
Recently, there had been a number of rumours swirling around on social media, with a slew of clubs rumoured to be keen on the Dons' top two targets this summer - Harry Darling and Scott Twine.
However, there hadn't been anything concrete for either player. Until perhaps now.
According to John Percy, a reporter for the Telegraph, Championship side Hull City have tabled a bid of £3 million plus add-ons for Twine, the Dons' top goal scorer last season.
It's the first report of serious interest and potential movement around the Dons' squad since the transfer window opened, but it is yet to be seen whether or not the offer is genuine or even if the Dons would accept such a price.
The Dons' new model of development lends itself to high turnover each year, with young, talented players brought in, developed within a successful system and then moved on for a significant profit, and this figure could be an indication of the Dons' determination to keep ahold of Twine after such an impressive year for the 22-year-old.
Twine scored 20 goals and provided a further 13 assists in his debut season at Stadium MK, and he could be the latest player to move on to new pastures in the same vein as Rhys Healey and Matt O'Riley - netting the Dons a sizeable figure.
Understandably, there would be the hope that Twine could see out another year in Milton Keynes, with the team agonisingly close to promotion last season, but with the first seemingly serious bid put in for his services, it may only be a matter of time before the inevitable comes to pass.