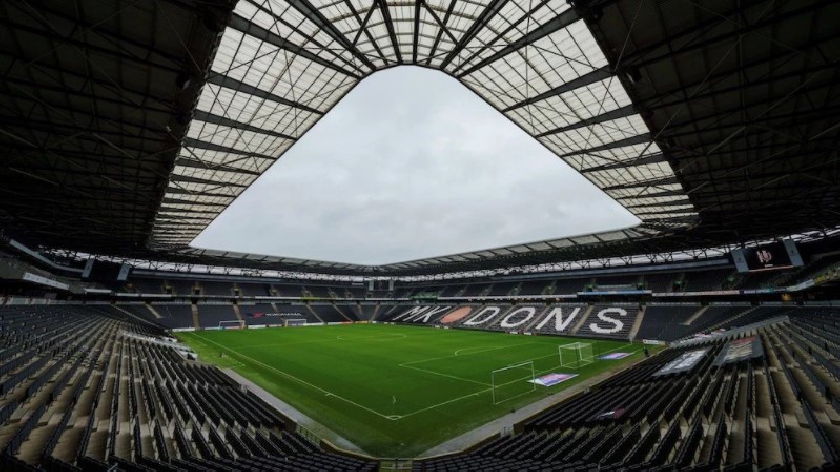 Image Credit: Milton Keynes Dons Football Club
It's official. Milton Keynes Dons will play their football in League Two next season after failing to defeat Burton Albion on the final day of the 2022-23 season.
The Dons picked up a point in a 0-0 draw at the Pirelli Stadium, but Cambridge United defeated rock-bottom Forest Green Rovers 2-0 in their final fixture to leapfrog the Dons and claim 20th place by just a single point.
The result sees the Dons drop into the fourth tier for the first time since they finished third at that level in the 2018-19 season, under the guidance of then-manager Paul Tisdale.
It's a complete switch-around in fortunes for the Stadium MK side, who came within a point of claiming promotion to the Championship just one year ago, falling short of reaching the playoff final after a close-fought two-leg semi-final against Wycombe Wanderers.
There will be thousands of questions circulating the minds of Dons fans, wondering how it could go so wrong so quickly. From promotion candidates right to the bitter end last season, to falling down into the difficult depths of League Two this time around.
Losing star players such as Harry Darling and Scott Twine clearly hurt the club, but having a 14-player overhaul of the squad in the summer did not bear any fruit and the changes made in January, which followed on from the departure of Liam Manning and his backroom staff, was not enough to turn things around.
A run of seven games unbeaten gave plenty of hope in the chase for survival, but teams in and around the Dons, including Morecambe, Cambridge United and Oxford United, were able to make enough of a dent that meant the Dons were nowhere near safe with fewer and fewer games remaining.
Cambridge could not have asked for a better final fixture, playing a team relegated long ago and without any answers of their own, while the Dons gave a good account of themselves but not enough to save their season.
Changes need to be made, to the playing squad as well as potentially behind the scenes, to ensure the club can make an immediate return to League One and avoid spiralling out of control.
Not all of the Dons' fourth tier opponents are known, with League Two playing their final fixtures tomorrow, but the likes of Wrexham, Swindon Town, AFC Wimbledon and Gillingham are locked in for next season.
Too many questions remain with so many answers needed. For now, it will be a time of reflection for the club and one of planning ahead to prevent this situation from happening again.