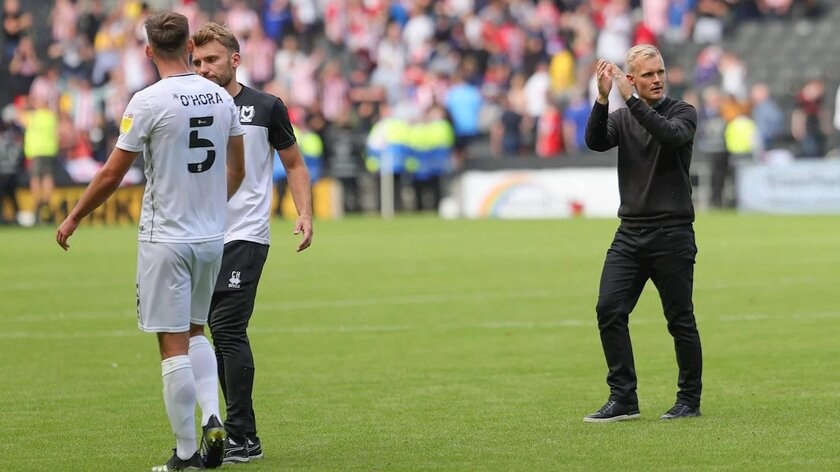 Image Credit: Milton Keynes Dons Football Club
Milton Keynes Dons have picked up points in their last five League One games, and all of them have been close affairs.
November 27th and the Dons' 4-0 victory over Morecambe was the last time the club was involved in a match that was decided by more than a single goal.
One goal has seen the Dons either pick up victory or suffer defeat, with their past two fixtures seeing Liam Manning's side battle out for shared points with Fleetwood Town and Ipswich Town.
It shows the level of competition in the third tier of English football, but also highlights how hard the Dons have had to perform in order to climb up to third place in the league – with results in the early days of Manning's tenure often seeing plenty of goals scored, at both ends of the pitch.
Just two points separate the Dons from fourth placed Sunderland and second placed Wigan Athletic, and eking out these close performances will help the team maintain their positive run of form and continue their push towards promotion.
Manning spoke about this after Saturday's 0-0 draw with the Tractor Boys, commenting: "I talk about it a lot, but credit has to go to the players and the staff for the work they do."
"I think there was a lot early on, when we first joined, in terms of scoring lots of goals but also giving up lots of chances and lots of goals."
"You look at the progress the group's made out of possession, we've got a really good platform going into games now that we don't give up too many chances, we don't give too much away from that perspective."
He concluded: "When you do that, you always have the opportunity to get something from games."
The Dons will look to continue battling in close contests, especially with a crucial fixture at Sunderland's Stadium of Light to come next Saturday – a match that could have an impact on the league standings by the time the final whistle blows.
As long as results continue to go the Dons' way, the closeness of the final score will be irrelevant but it will be something to watch closely as the end of the season begins to draw closer and the final standings begin to take shape.