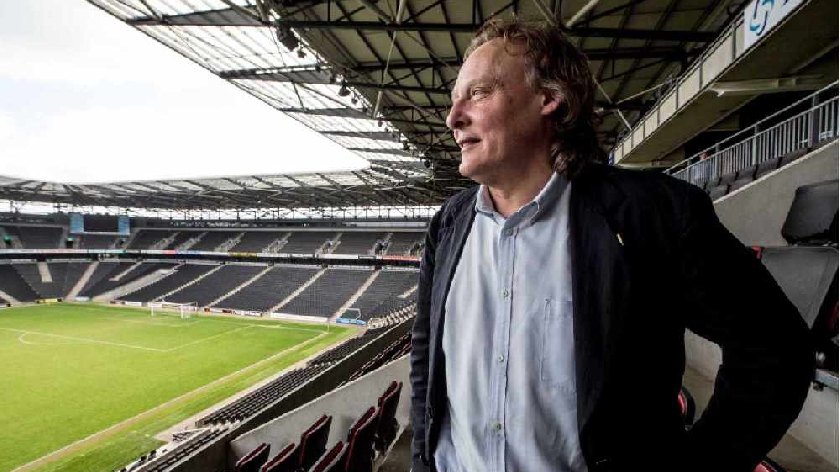 Image Credit: Milton Keynes Dons Football Club
Milton Keynes Dons chairman Pete Winkelman spoke exclusively to MKFM earlier today, Saturday 13th June.
Talking on-air during MKFM's MK Dons Fans Forum, Mr Winkelman gave his views on the League One clubs' vote to curtail the 2019/20 season, which had been paused due to the ongoing Coronavirus pandemic.
Mr Winkelman commented: "I think that lower down the leagues it's the only sensible decision that people could take."
"We were prepared to play on because there were teams in our league that had a lot to lose by not playing."
"If they had been able to convince half the clubs to be able to keep playing, we'd have been one of those clubs that would have kept playing, because fundamentally I still believe we are in the business of football and if there's the opportunity to play we need to try and take it."
"But, of course, these are ridiculously difficult times and for so many people, including ourselves, it's a very expensive thing to finish the season."
"In the Premier League the TV influence is utterly massive, in the Championship it matters but by the time it gets down to League One and League Two it doesn't really have much effect on our incomes, whereas of course gates really do."
"So, at the end of the day, I think it was a sensible decision that both League One and League Two took to finish."
Clubs in League One voted 19-4 to bring the regular season to a close, but some clubs that still had a chance to claim a spot in the playoffs, or climb out of the relegation zone, were not happy with the result.
Speaking of those clubs, which included 'local' rivals Peterborough United, and their circumstances, Mr Winkelman said: "Do I feel sorry for Peterborough? People might think 'you can't feel sorry for Peterborough', but actually I can because I can completely imagine being in their position."
"Sunderland, with their enormous fan base, could have had a little spurt towards the end of the season, it was completely possible."
"They were all squashed within two points of each other, up to second place, so I can really feel for those clubs, and at the bottom end by us, of course, Tranmere had just won three games on the bounce and maybe would have gone on a little run and maybe someone else would've fallen into that relegation place."
"But of course, it's all if, what and maybes and the trouble with football is it isn't fair. How many times have we been to the game and played brilliantly and then they go up the other end and you lose one-nil."
"Football is just fundamentally not fair. It's about trying to be consistent, it's about trying to win that law of average and trying to entertain and be the best you can be."
"Therefore, we are where we are, everyone has to accept it, it means we all go again in League One next year and I'm really looking forward to it."
Mr Winkelman also gave his views on what next season could look like, commenting: "It will be quite a competitive league with some quite big teams in it, it might actually be quite an exciting division."
"I know that Russ, myself and the players that are with us are all really looking forward to just getting back to play again and I know they would accept playing in any circumstance."
"Although, I personally believe, and it's only a personal view and it's only based on the current things as where we are on 13th June but I can see [us] being back in some kind of way with some kind of crowds by the middle of September."
"I think that is a very realistic thing and is one of the scenarios that one of our plans works on."
"I think it won't be completely unrestricted, I think there will still be COVID restrictions and, as I say, in our stadium maybe just for once they won't be able to sing 'your ground's too big for you'. Maybe it will be just about the right size."
"I'm hoping that when we come back we will have some supporters because football just isn't the same without them, it's not just a TV spectacle, it's a live event that when you're there you feel it and we're not being able to feel those emotions in quite the same way."
"Although I must say, I am looking forward to watching the Premier League and Championship finish and there is a small part of me that is jealous."
With some leagues still needing to be finished, there's no set timetable for clubs to return to training ahead of the 2020/21 season.
Mr Winkelman feels that the delay to the new season won't be too long, thanks to the timing of the 19/20 season curtailing, but admits there are many different factors that will affect when the new campaign could start.
He explained: "I think we'll be back by about a month and I think that is catch up-able in the year but it's not just an EFL decision."
"They've got to see what the Premier League are doing, and [they] have got to see what UEFA are doing with the Champions League and all the qualifying rounds that are usually played in the summer for the next year's cup."
"So there's a lot of ifs, what's and maybes and that's why it takes so long in football to get any final decisions, even though we always knew we were either finishing the season or we weren't."
With the country beginning to open up more as the weeks go on, Mr Winkelman feels optimistic about football returning in the autumn, with some supporters back in stadiums, though there are a number of things that is contingent upon.
He explained: "As we've seen circumstances continue to change, even a month ago I was starting to think we wouldn't have fans in the stadium for the next year, whereas things have lightened up so much and it's not just what's happening in this country but looking around Europe."
"If we can get away with this lightening of the load and we don't get a second wave then, as I say, I can definitely see supporters back."
"Whether that's just season ticket holders, or will there be away fans, there are so many things to work out but I'm very hopeful we'll have some kind of crowds, with football back for the new season, and it happening in September."