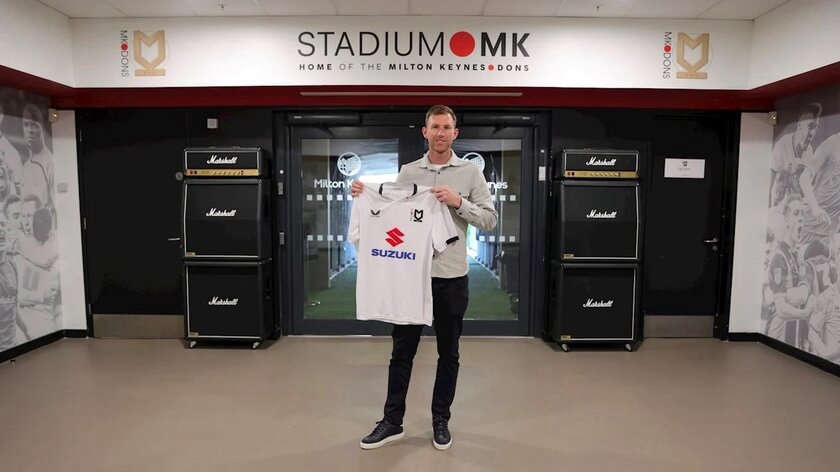 Milton Keynes Dons have moved quickly to replace Graham Alexander as head coach, announcing the hiring of Mike Williamson.
Williamson joins the Dons after an impressive four-year spell in charge of Gateshead, where he helped guide the Heed to the National League North title in the 2021-22 season, where his side scored 99 goals en route to the title.
Since that victory, gaining promotion to the fifth tier of English football again, the club has gone from strength to strength under Williamson's guidance, currently sitting sixth in the National League after finishing last season in 14th.
His sides are known for an attacking, possession-based system which will be welcome news to Dons fans, with the likes of Russell Martin and Liam Manning having previously operated in such a way that had come to be known as 'The MK Way'.
The former Premier League player commented on his arrival at Stadium MK, saying: "I'm excited and I can't wait to get started," Williamson said in his first interview with iFollow MK Dons. "It's been a quick turnaround and it was a tough decision to leave Gateshead but when a Club like this comes in, it's a no-brainer."
"Everything the Club epitomises was really attractive to me and my team. For us, it was about finding somewhere that was aligned with the way we see the game and would back us in doing that - this is the right Club for us to do that."
"We have a talented squad, with strength in depth, and we'll come in and start getting to know the group. They've got to trust us and buy into what we stand for - we have a lot of ideas that we want to implement, but it will be one thing at a time. It is going to be an evolution."
Williamson continued: "Ultimately, we want to win. We want to win every metric. It will look a certain way but ultimately it's about winning and that's the outcome we're looking to achieve."
"We want to be intense – everything we do we want to do with energy and enthusiasm. We want to play forwards as quickly as we can but we've got to have solutions and the players have to understand what we're trying to achieve."
"A by-product of that is that we want to control the game, and that will equate to dominating possession, but our whole play is about disturbing the backline and when we work our way from back to front, it is with one thing in mind and that is scoring a goal."
"We wanted to be connected – on the pitch, with the Club and with the fans. The fans are the Club, they are the bedrock and we are coming in to guide and support their team, but we've got to earn their trust. Fortunately for us, the alignment is there throughout the club, which is exciting, and we can't wait to get started."
Chairman Pete Winkelman also commented: "Given our current situation, it was important we moved quickly to identify and appoint the right Head Coach."
"In Mike, we believe we have found someone who is clearly aligned with what we want to see from an MK Dons team and I am very excited to welcome him and his team to the Club."
"It is clear to see, from the fantastic work he has done in his first managerial job at Gateshead, that Mike is a Head Coach who wants to play attractive, possession-based football – the 'MK Way' that we are known for and that our supporters expect to watch here at Stadium MK and when travelling to see their team across the country."
"Not only that, Mike is a winner. He has achieved promotions throughout his playing career and already as a manager. We will give him every ounce of support, as I'm sure the supporters will, as he looks to bring that winning and positive mentality to Stadium MK."
Williamson will also be joined by Assistant Head Coach Ian Watson and First-Team Coach Chris Bell, whom he worked with throughout his four-year reign at Gateshead.
On his coaching team, Williamson said: "They were the heartbeat of the Club at Gateshead."
"We've all had unique pathways to get to where we are today. Ian has had hours of coaching on the field, which has transferred into different areas, and in the last five years, we've worked really well together. Chris is very multi-faceted and brings a lot to the table."
"Football is an emotional, passionate game and these two bring that in abundance."